To get to the Status Manager; click on Status Manager option in the Registration drop down list

What does the Status Manager do?
The Status Manager is an area where you can review and edit the membership approval elements of each of your members; particularly their:
Financial status,
Proof of Age status
Membership Number (new feature)
The above pre-requisites, as well  as a Membership/Registration Number must be in place for a member to be included within a State Body Batch Return. 
Where has the data in this screen come from?
Data in this area may have been received from either:
Online Registrations (ie. the family has registered online)
Centre entered Registrations
Offline using RegistrationHQ, and then pushing/uploading data to ResultsHQ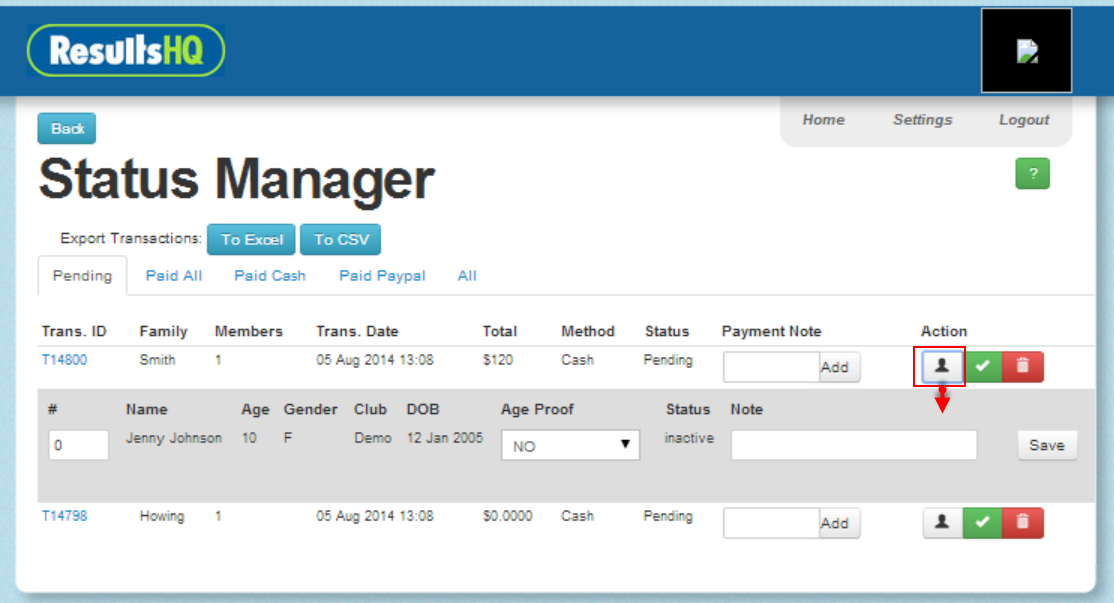 Status Manager Page Layout
Headings above the list of transactions can be clicked to filter between: Pending, Paid, Paid Cash, Paid Paypal, All so that you can narrow down the transaction that you're looking for.

Each Registration/Transaction is represented by a white row, which has a Transaction ID eg. T14800

The family details relating to this transaction will be visible in the white row

You can click on the icon of the head/shoulders to expand out the grey row(s) which will contain details of the associated athlete(s) in the transaction
What actions can I take in this page?
Note: Changes will be saved immediately as they are typed in. 
Approve Payments: Press the green Tick to the right of the transaction details to approve the transaction for payment. The transaction will now move to the 'Paid Cash' tab. 
Approve Proof of Age: Expand the athlete details by pressing the Head/Shoulders icon. A grey row will appear and it will contain the athletes details. Their PoA status will be shown as either Yes or No. Change this to Yes if you have sited proof of age/d.o.b such as a birth certificate. 
Add Membership Numbers: Expand the athlete details by pressing the Head/Shoulders icon. A grey row will appear and it will contain the athletes details. Type in a membership number into the first cell of the athlete row marked with heading '#'
Approved payments will appear in the Member List. You can view which of your members has PoA approved in the member list by clicking on the PoA heading, which will filter the list in PoA order. 
View Transaction Receipt and Purchase Items from the Status Manager
You can view the Transaction Receipt that the family would have received during their registration by clicking on the hyperlinked 'TXXX' next to their name. 
This will show you the names of the children they have registered, their family details, the products they have purchased, and the amounts they owe, as per the below example. 
Once I have approved members, what happens next?
All members that are financial, have had proof of age sited, and have a membership allocated will be eligible for the returns process, applicable to WA customers only. Please view topic Batching of Members for more detail