ResultsHQ Nominations allow you to set up a meet and invite either individuals from your centre, or expand the invitations to any Centre in the ResultsHQ system. Invites can be set to limit available events by number of events and/or minimum performance levels. You can require payment and establish a list of Duties that need to be selected as part of the nomination process.
New Invite Screen

The invite screen has been expanded and now includes the following options:
Member Caps
Limit the number of events by Age/Gender. For multi day meets the number of events are added up for each of the included days. Members will not be able to select more events that specified in the Nomination process.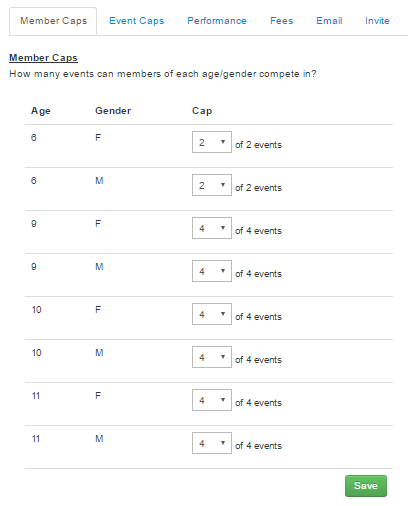 Event Caps
Limit the number of places for each Event by Centre. Members can nominate in to the event but the Centre report will highlight events where more members have nominated into the meet.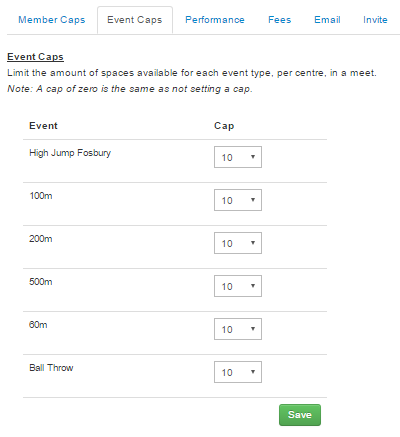 Performance
Set a minimum performance level for each Event/Age/Gender. Members will only be presented with events that they qualify for in the Nomination screens.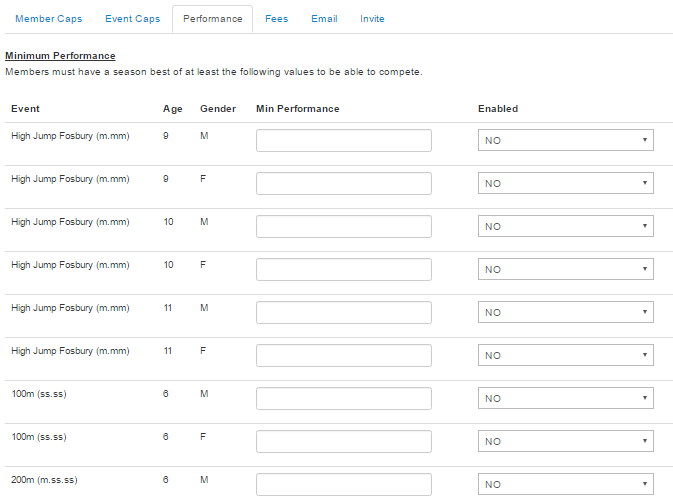 Fees
Setup Athlete and Family charges payable as part of your Nomination. A maximum cap can be set to limit the total fees chargable per family nomination. Timing Solutions charge a fee for using the service, and transactional fees apply. The Fees page details the charges. Include your bank details for funds to be transfered back to you at close of nominations (or other agreed periods) minus charges.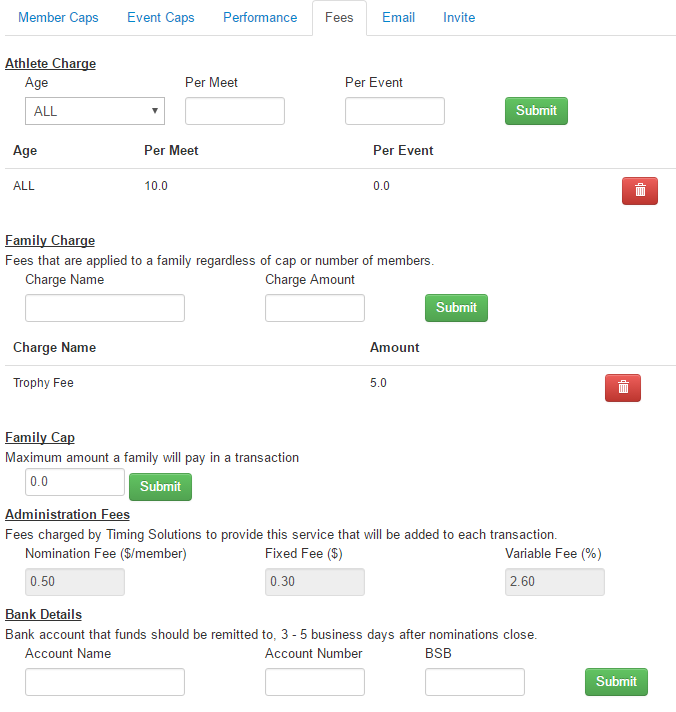 Email
Add a custom message to the nomination invite, the standard content is displayed however you can customise the information that follows to share important information with your members about the event nomination. If you have a verified email in your profile all email will be sent from that address otherwise from no-reply@timingsolutions.com.au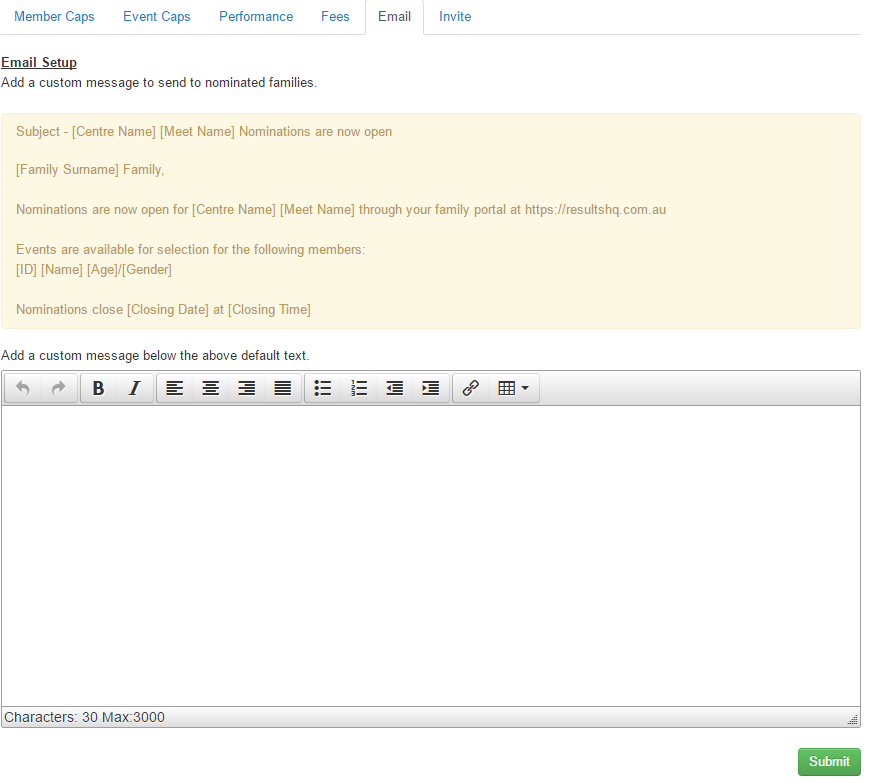 Invite
Select whether the nominations are to be accessible in the family area and/or to other Centres that use ResultsHQ. Define your nomination cut off date/time and if you are going to be requiring members to select a family duty in the process. For invited Centres, you can then send the invite email to the membership of those centres either individually centre by centre or as a whole. The email sent date displays next to the invited centre. Only members that meet the criteria of your meet will receive an invite email.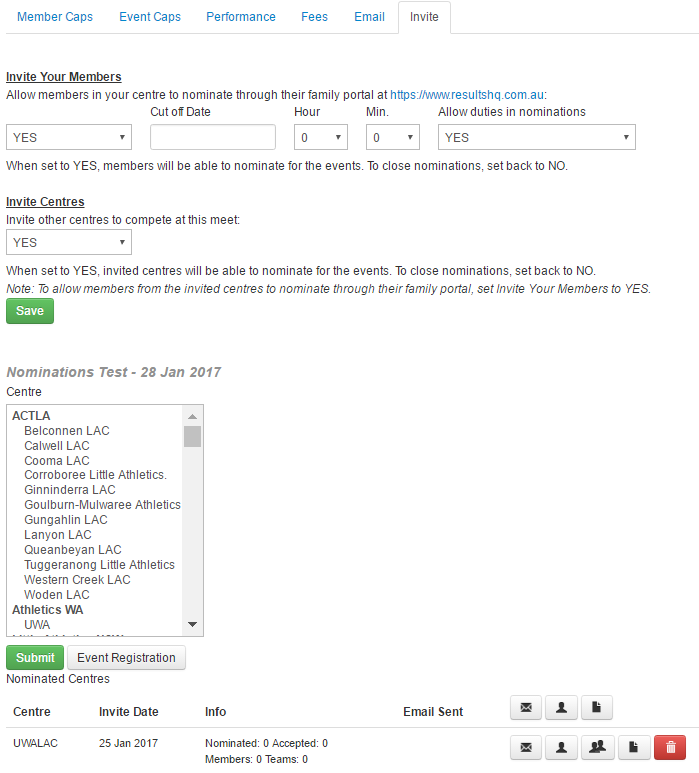 Duty Roster
When setting up a meet - you can now include a duty roster that can be accessed in the Nomination process by members as they select their events. Additional Duty Rosters can be setup from the More - Duty Roster page.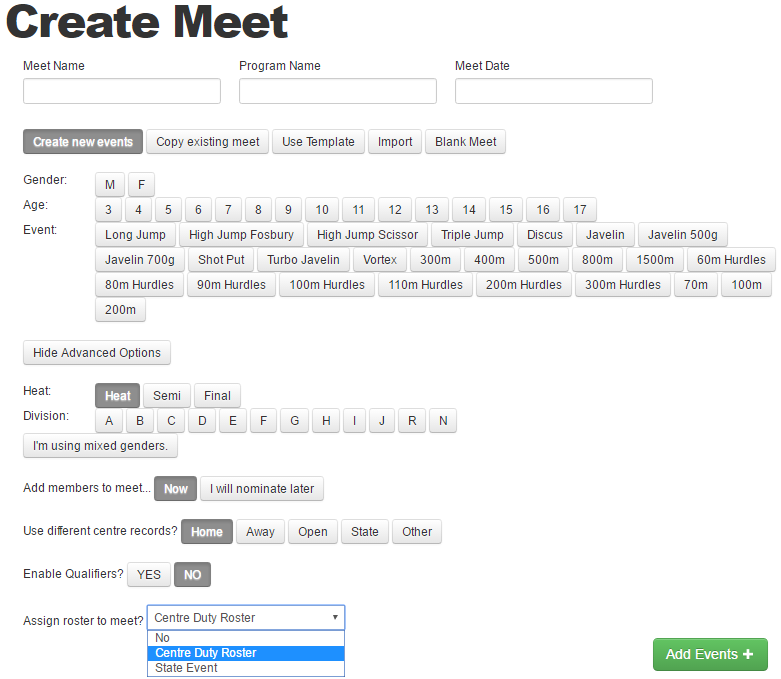 If you have any comments or feedback on the nomination process please don't hesitate to contact us at support@timingsolutions.com.au