Welcome to the set-up steps for RegistrationHQ.
Setup Overview
1. Click on the Registration - Setup button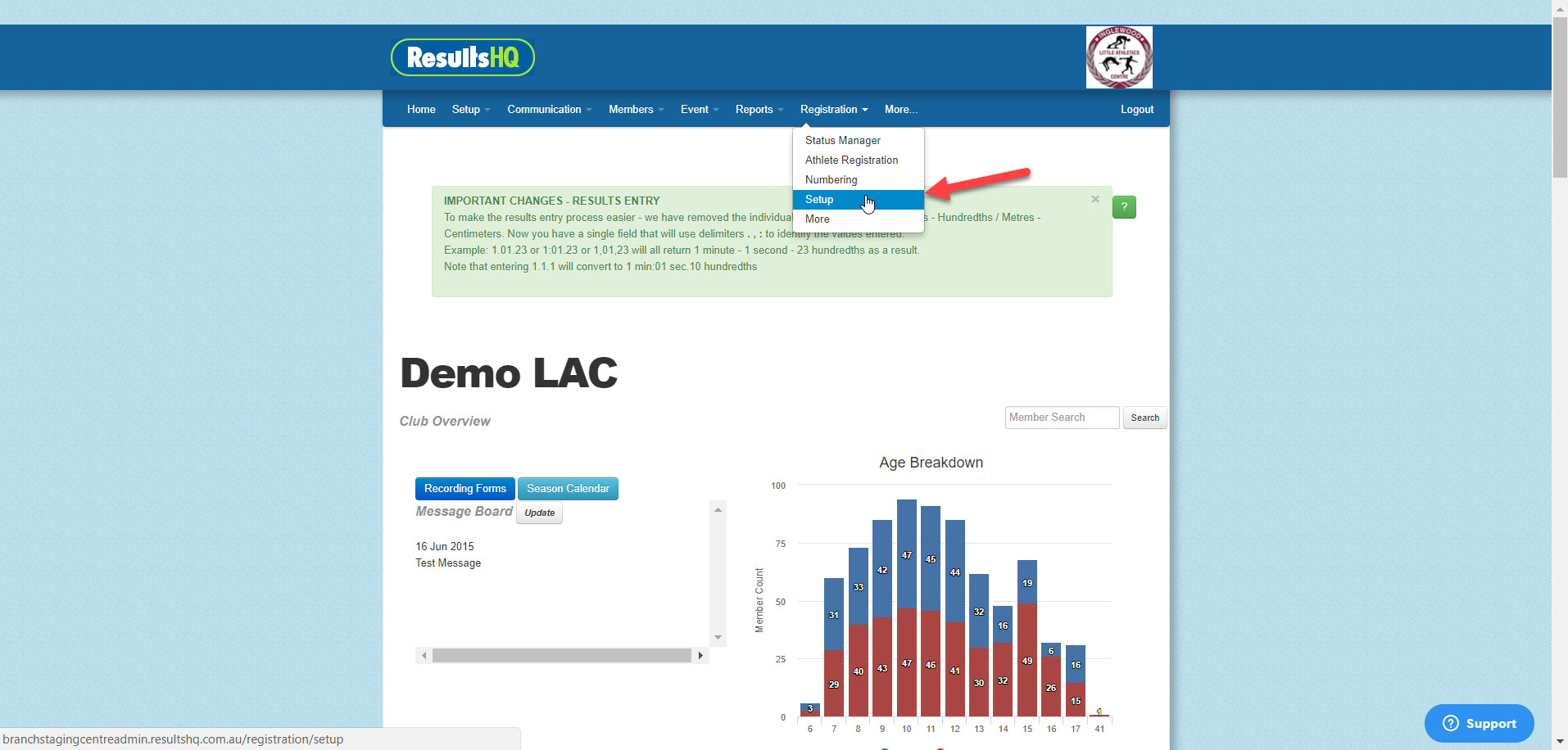 2. The setup screen shows you all the relevant areas that you will possibly want to use for your registrations. Here are what the different tabs relate too:

Centre Registration Home Page - contact details
Before you set up your registration fees etc...make sure you have set up the contact details for your Centres Registration home page. Each centre has by default their own home page. There will be more features to come for this. In the meantime please make sure your details are current and up to date.
1. The home page looks like this. It has a map of the area your centre is in as well as the contact details on the right. This information is pulled from your ResultsHQ - Setup - Profile area...see next step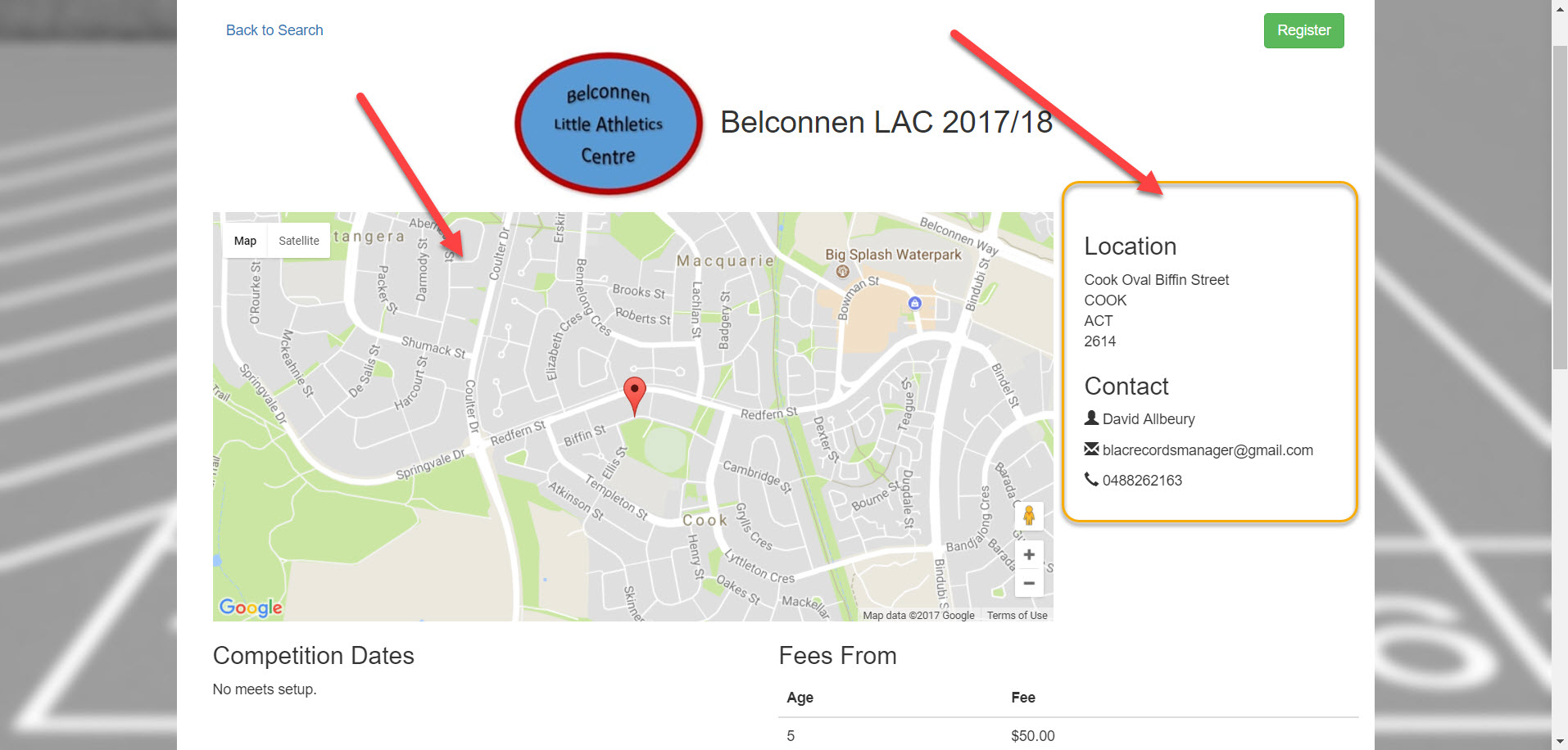 2. To confirm these details follow these steps...Go to Setup - Profile Details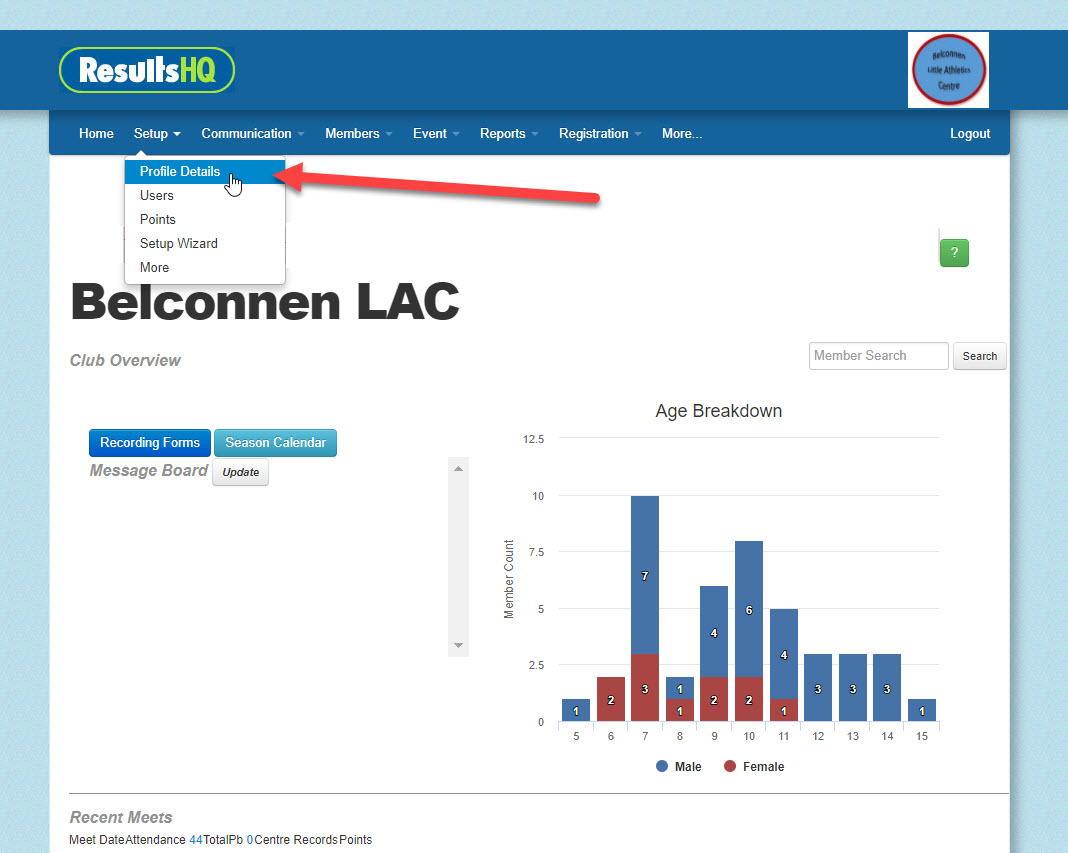 3. Scroll down to where you can see your centres registration page link and your contact details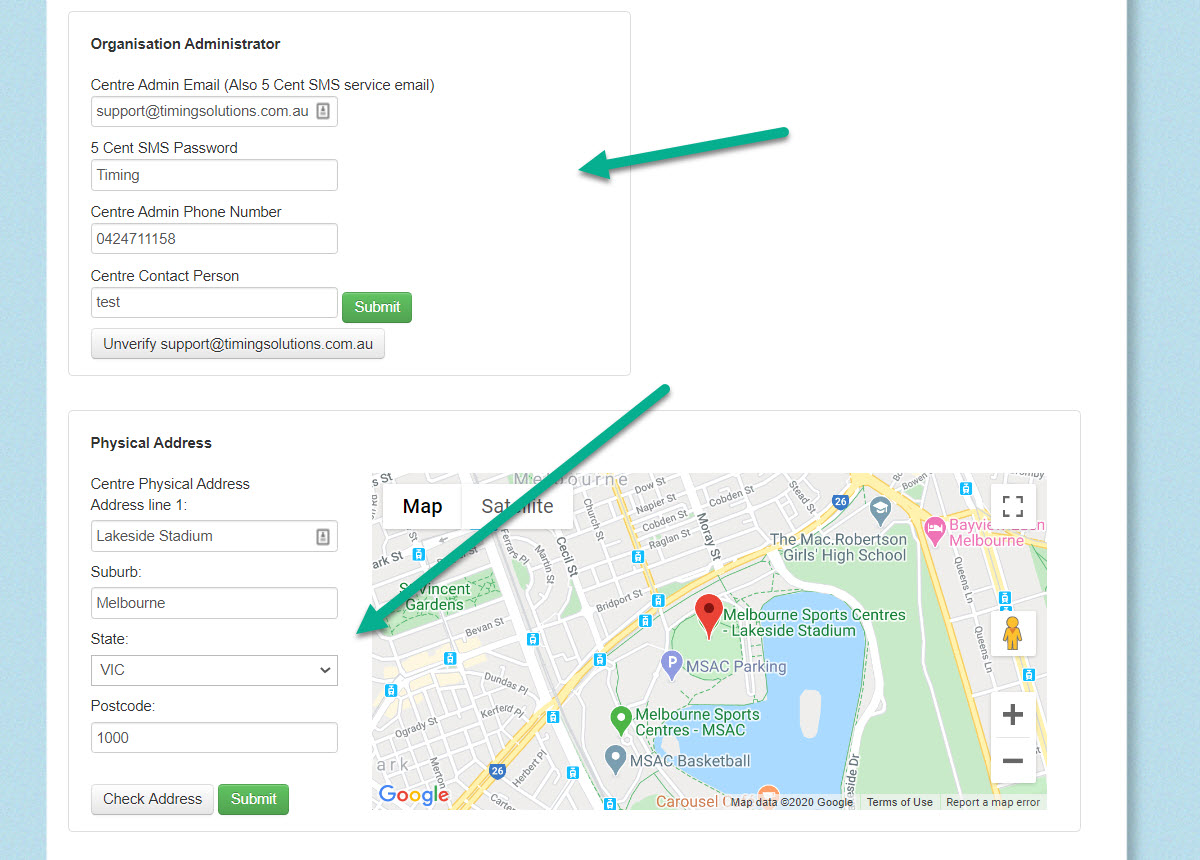 4. To confirm it has all been updated correctly got to your centre's registration page and have a look. Enjoy!
Setup/Edit Club Name
You will need to set up a Club name, regardless of whether you are a single or a multi-club Centre. In the case where you do not have any 'Clubs', this will be your Centre name
If you would like these Centre / Club names to be attached to each of your members (eg. for reporting etc) then it is necessary to have the exact same club name against them when you import their registration details
1. Click on More... (top right menu)
2. Click on Club/House (In the Registration menu)

3. The Club/House setup screen will be displayed. There are blank fields at the top of the form which will allow you to enter your club name details and any related information.
Club Name Abbreviation: Enter an abbreviation for your club name. This will be used in Recording sheets where space is restricted.
Club Name: Enter the full club name here. This will be displayed in processes such as online registration
Club Description: This field will be utilised in the online registration process if using RegistrationHQ. When registering members want to know a bit about your club such as who should register for this club (eg. based on suburb), what nights this club trains on, then they will be provided with this description when they select the club name
Password: Enter a password specific to this club. This is for future features, such as Club specific reporting access
Allowed Payment Methods: For the Registration module this allows your Clubs to have different payment methods to the Centre default if required.
4. Once an update has been made, press Save.
5. Repeat this for your other Club names if required.
6. Updating / Deleting If you need to make an update to an existing Club, simply press the Update button. If you Delete a club name it will REMOVE the club against all associated members (regardless of their status) so only do this if there are no members associated with the Club
Products - fees, discounts, family caps etc
Products are what your members sign up to, they are your membership fee/s. The default item in your products is called Default. This is a 365-day product (full season) that the members sign up for. This is there in your products list without you having to do anything. You can add other products like Trialist etc and have a separate fee structure for this.
Note: the platform fees for using this RegistrationHQ function may vary from state to state, but the general fees look like this - $2.2 per athlete to Timing Solutions and then the transaction fees are $0.30 plus 2% of the total transaction cost. The centre can choose to absorb or to add on this charge to the user registering.
The focus right now is on the current Default product. The steps and logic are the same for any other product you may set up.
1. Go to Registrations - Setup
2. Then click on the Fee Structure button for the Default product. Note on this screen if you have other products with Active Days, Send Email, Multi Sign up, Multi-Use set up, you can also edit the Active status from #No to Yes via the Edit button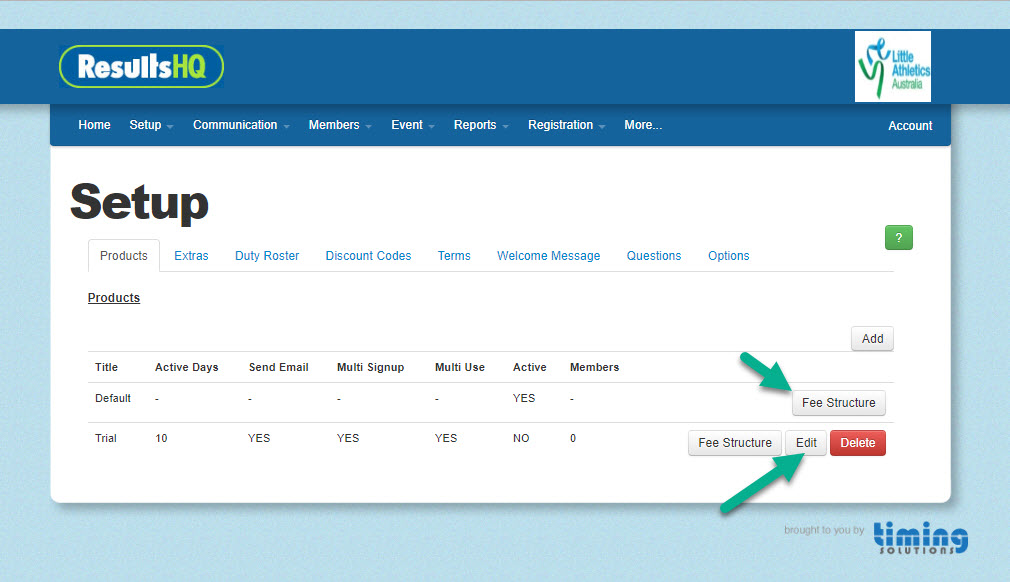 3. When the fee screen opens you will see where you can add new or edit existing age fees with these various fields (orange highlighted area). Remember, if you do not have clubs are your centre, then only fill in the Centre Fee area. The Discount Yes/No, means that the age group will be eligible for discounts (next tab in the fee set up). Note the Associate fee flows through from the association, you can not edit that fee.
The number call outs are to show you what the fee values mean:
What the fee was set as - you keyed in $175
What the family will see and pay - due to platform fees (if you had "Absorb fees" set to "Yes", then the family would see $175 instead of $181)
How much the centre will receive from the family - this is whatever the family has paid, minus the platform fees (again if the "Absorb fees" options were set to "Yes", your centre would get $175 minus the platform fees)
This tooltip/pop-up description will remind you of the meaning of the fees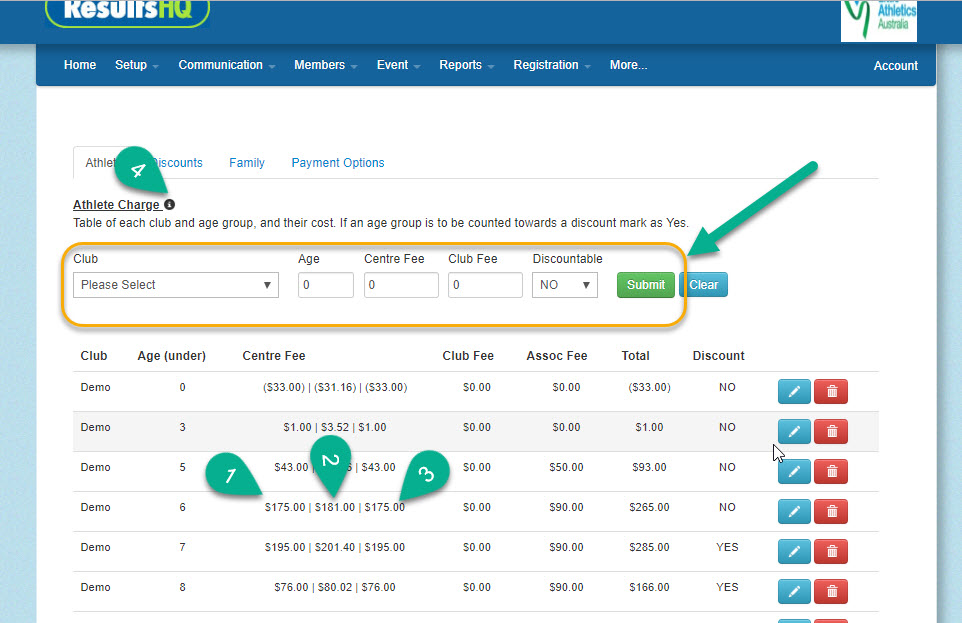 4. The next tab called Discounts is where you set up discounts for multiple athletes. The discount value is a total $ dollar value that the X number of athletes will be discounted by e.g.
The athlete fee is $150 per athlete
A family has two athletes
Total would be 2 x $150 = *$300
Discount for a two athlete family is **$105 total (the amount set is $105, the discount total is $107.10)
So the family total would be *$300 - **$105 = $195 for their two athletes (depending on Absorb Fees being set to Yes or No, will impact this number)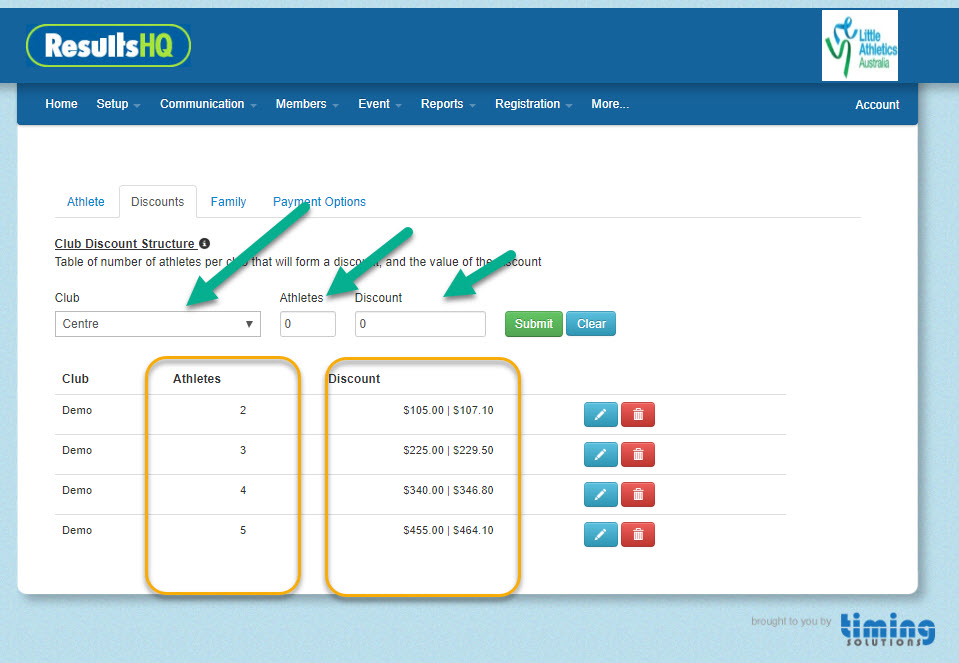 5. Family - will let you set up additional fees for the family, regardless of the number of athletes the family has. If you don't have an additional family fee then you can ignore this step.
You can also set up a Family Cap...so that a family will only pay a total of $X for their whole family. This includes all products, fees, extras etc.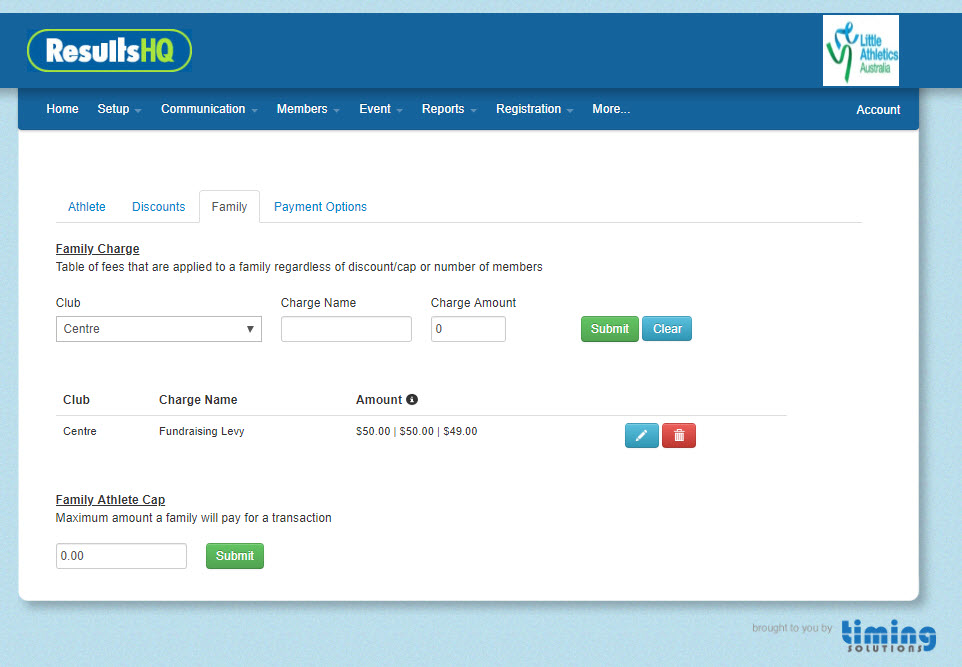 6. The final step is to say how you want users to be able to pay for their registrations.
Cash: they will send you a cheque, EFT or give you cash.
Online: they will be able to use their credit card or a PayPal account.
You can opt to offer both payment methods.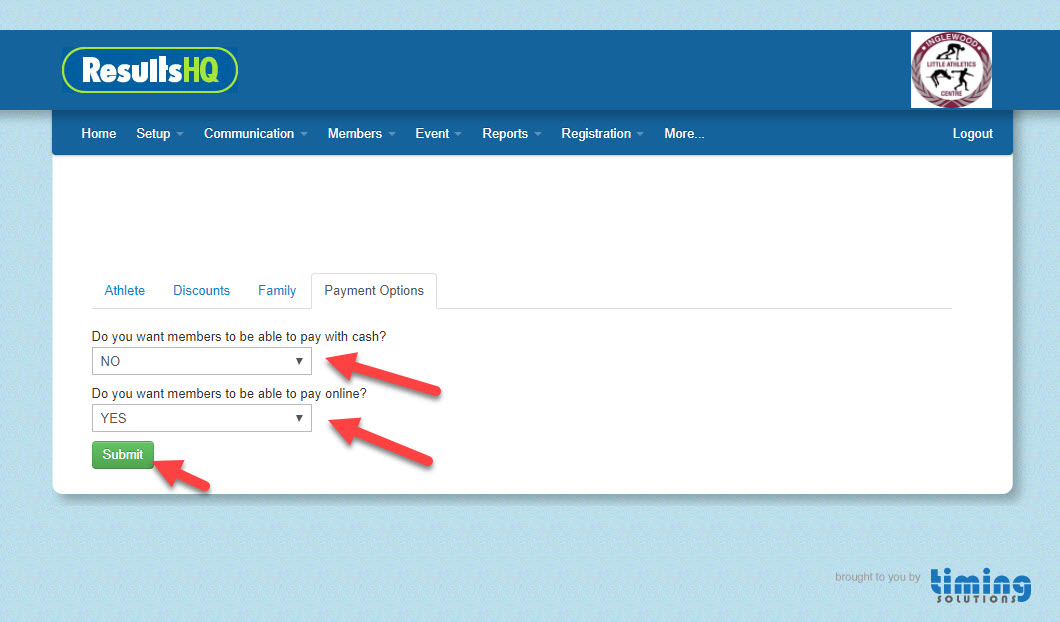 Now you have completed setting up the Default product. If you wanted to add other "products" like trialist, simply repeat these steps under the new product you have added.
Extras - Hats, uniforms, water bottles etc
Extras are anything that you want a user to have the opportunity to purchase while they are registering. These are things like uniforms, water bottles, hats etc. If you don't set up any extras, the user won't see this screen while registering.
1. Go to Registration - Setup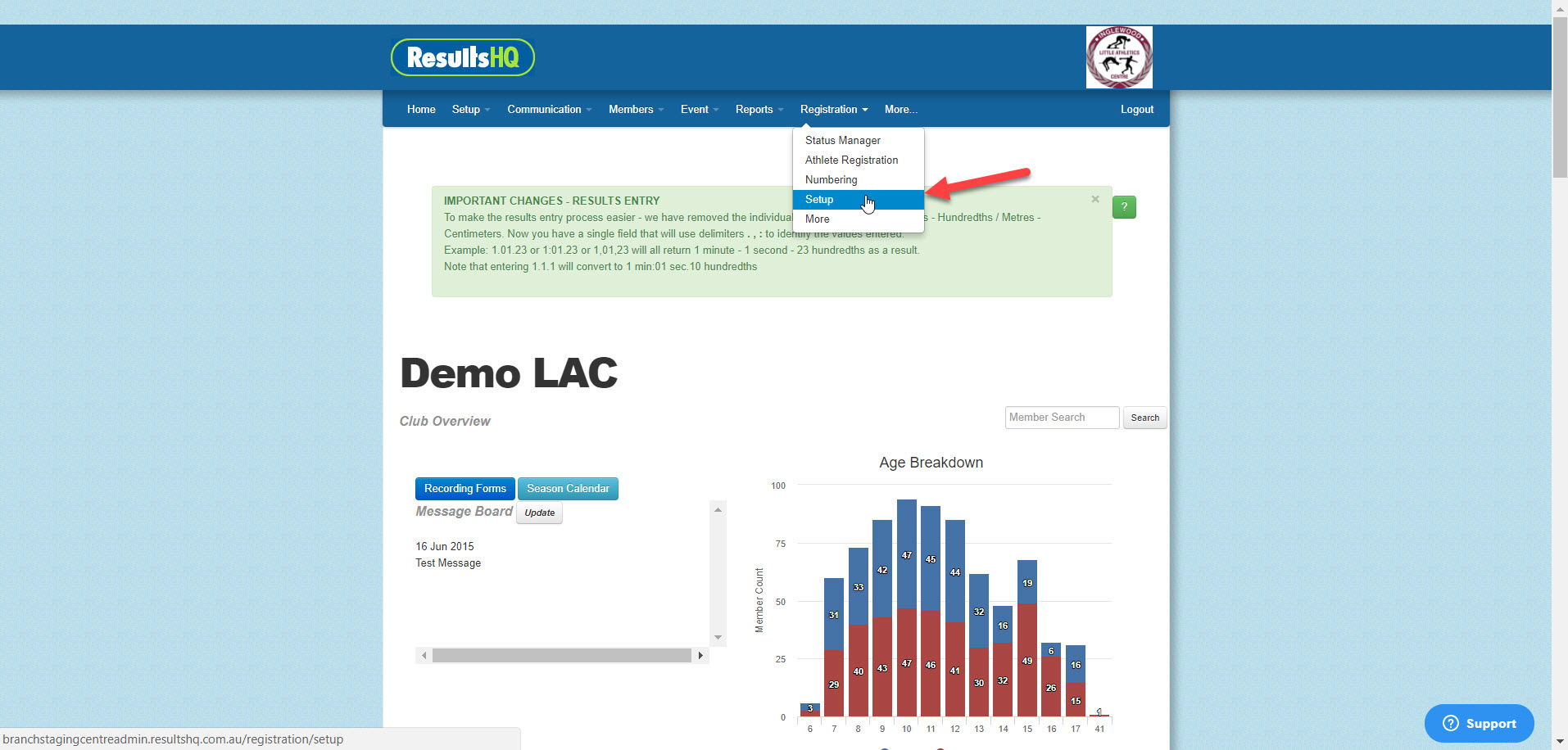 2. Click on the Extras tab...it will show you any items you have for sale, their quantity, price and if you want to keep them available for users to see as they register or not. To add a new item click on the Add button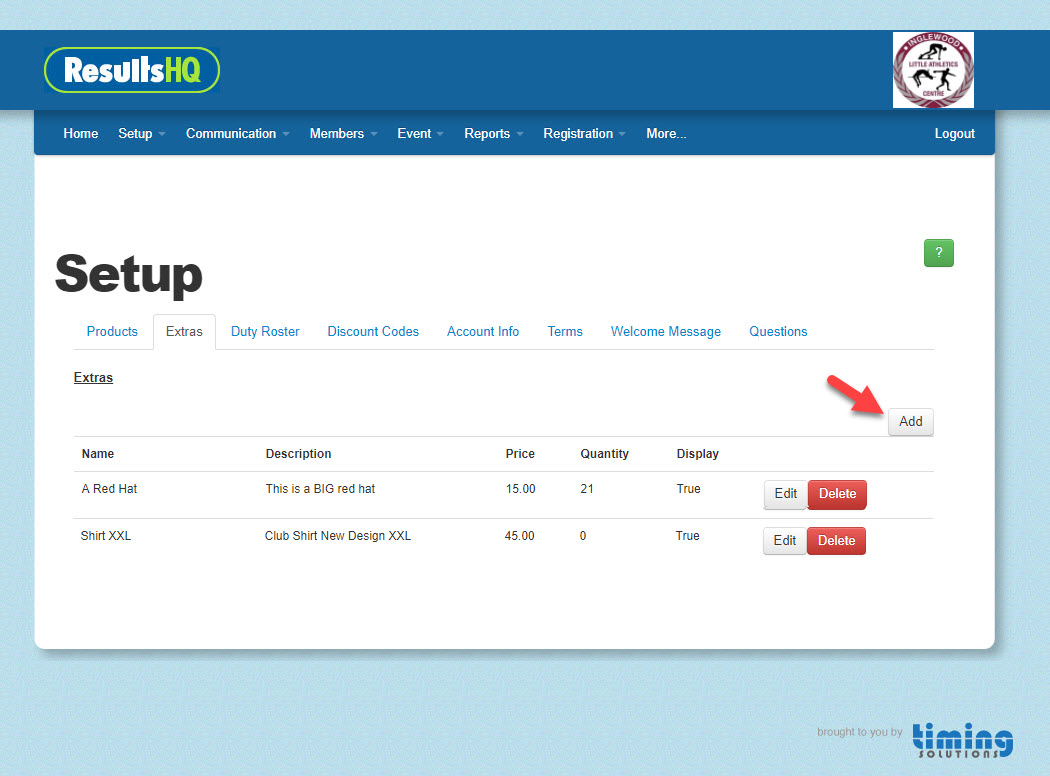 3. Then fill in the required fields and press Submit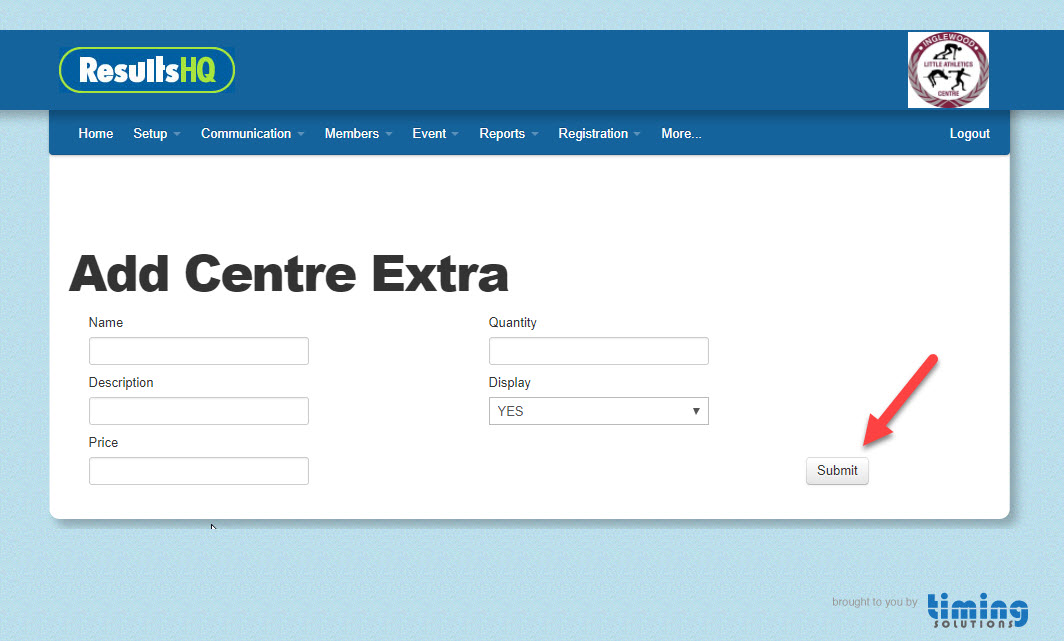 Now your Extra items are set up and available.
Duty Roster - tasks that users have to nominate for during registration
Duty roster lets you set up tasks/duties that users need to select nominate for while registering. If you have duties set up and turned on then it is compulsory that all users registering will have to select a duty to complete their registration.
1. Go to Registrations - Setup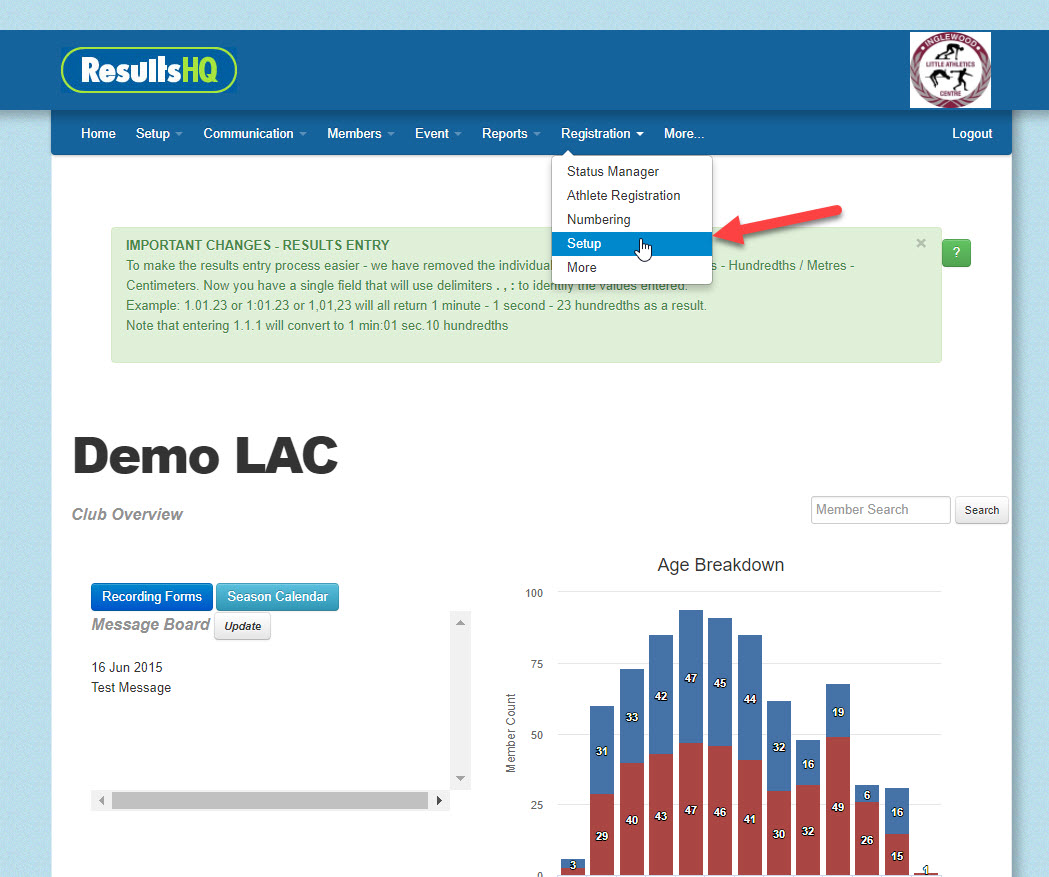 2. Click on the Duty Roster tab then Add Roster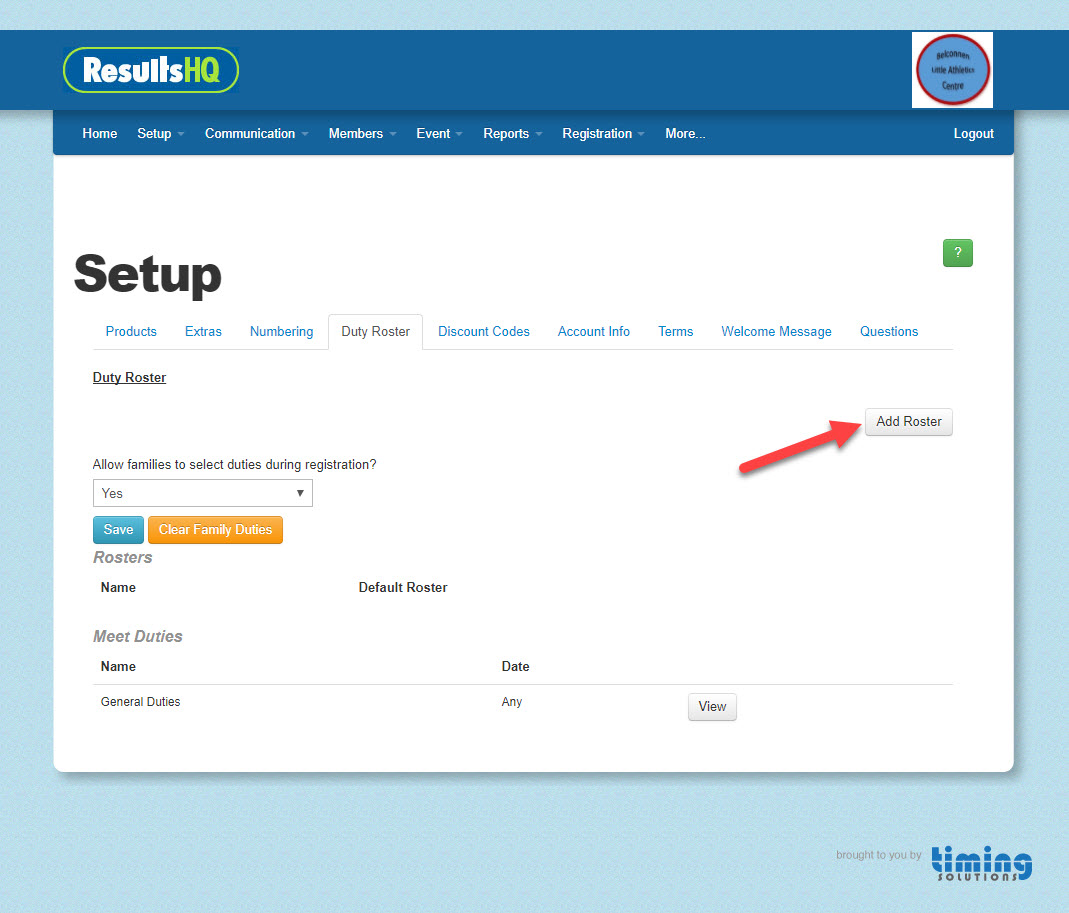 3. Give your Roster a name, the system lets you have multiple rosters. So give them meaning full names. This roster we are setting up here will be used for the registration process. Then press Create once you have filled in the required fields.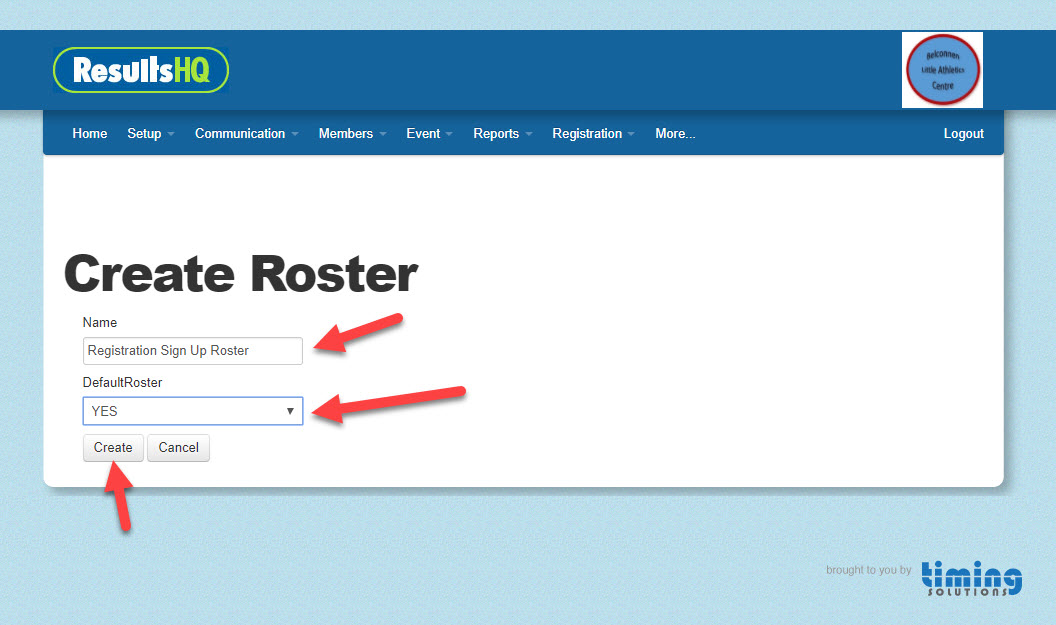 4. Now once the screen refreshes click on update for this Roster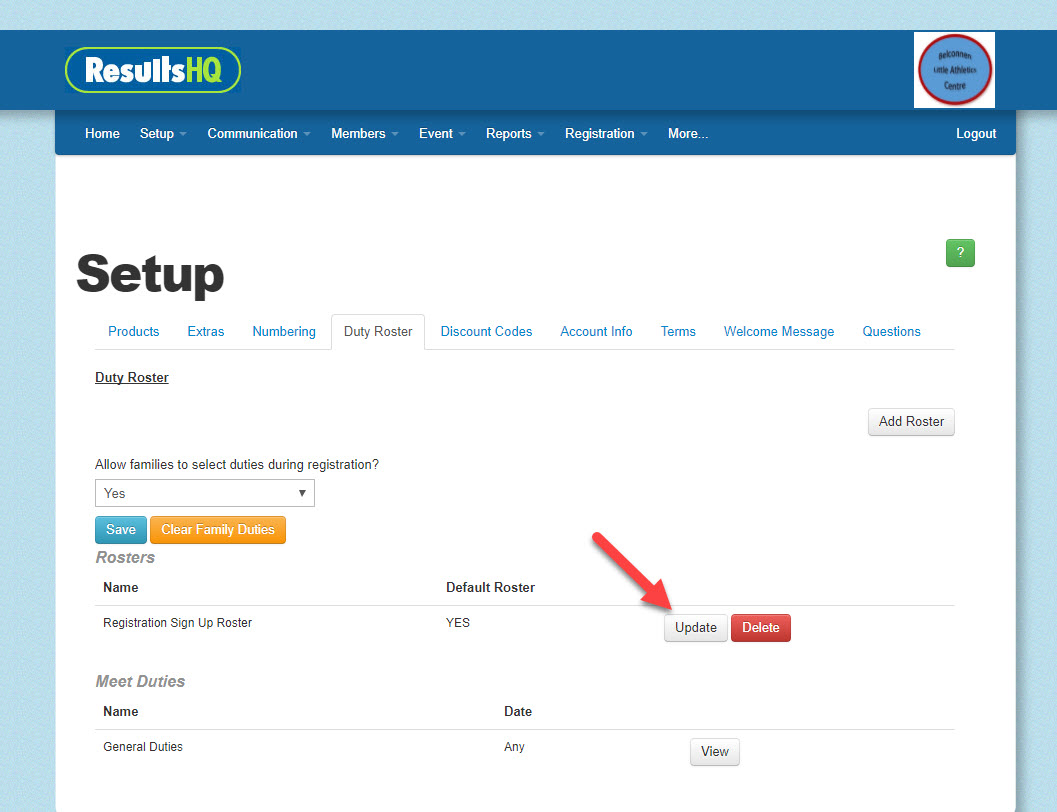 5. Click on the Setup tab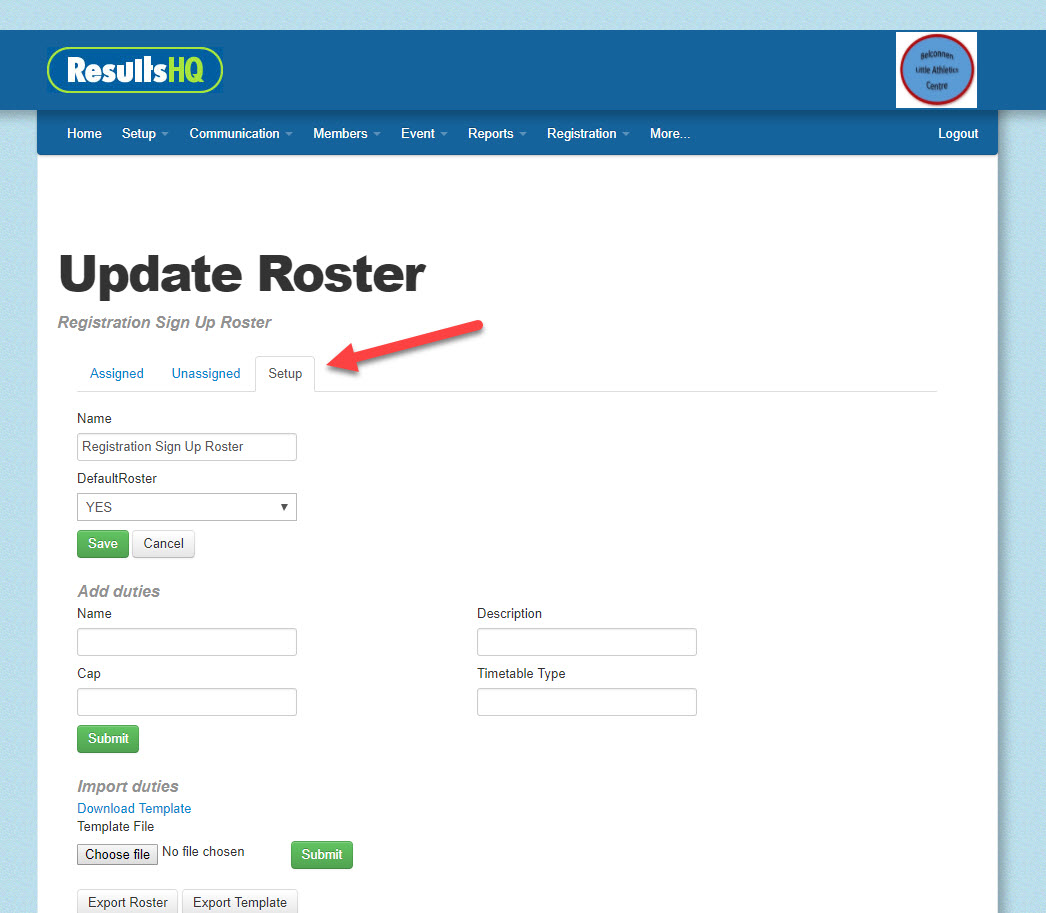 6. Fill in the required fields.
Note - you can also import duties via the import function and template available also on that page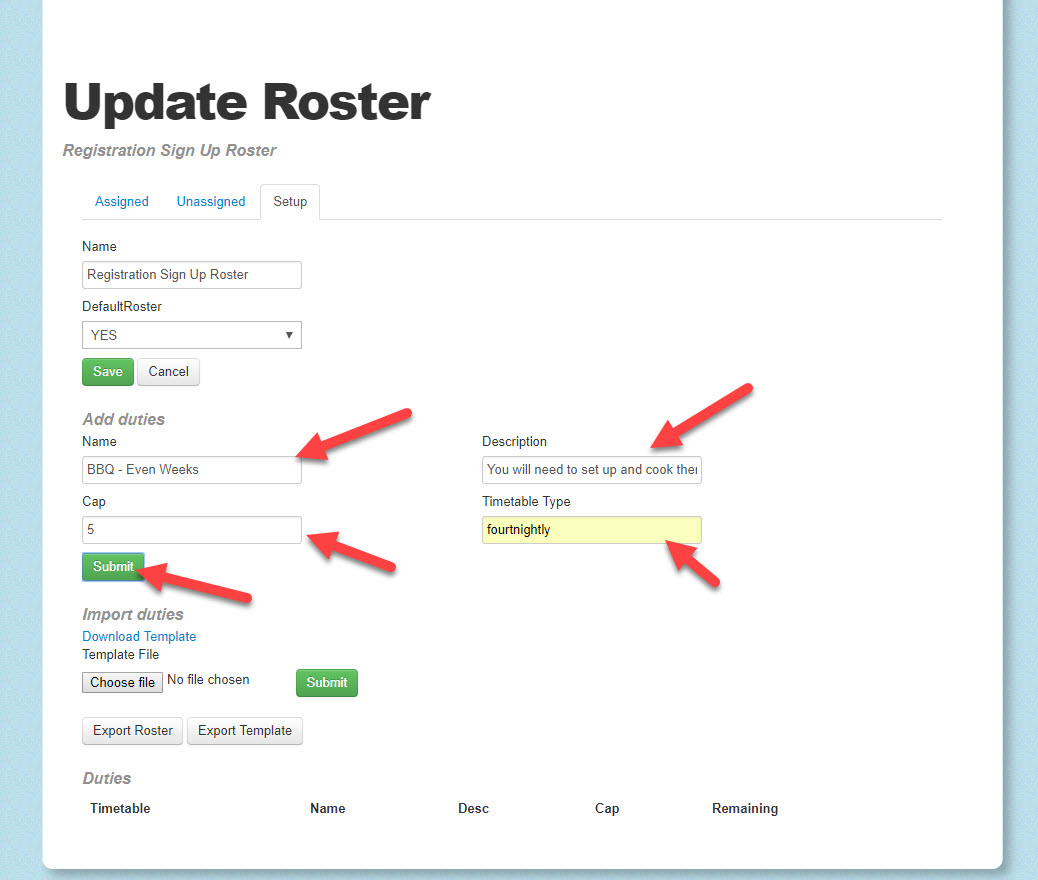 7. Once you have added your duties you can now turn them on or off so that users see them or not while registering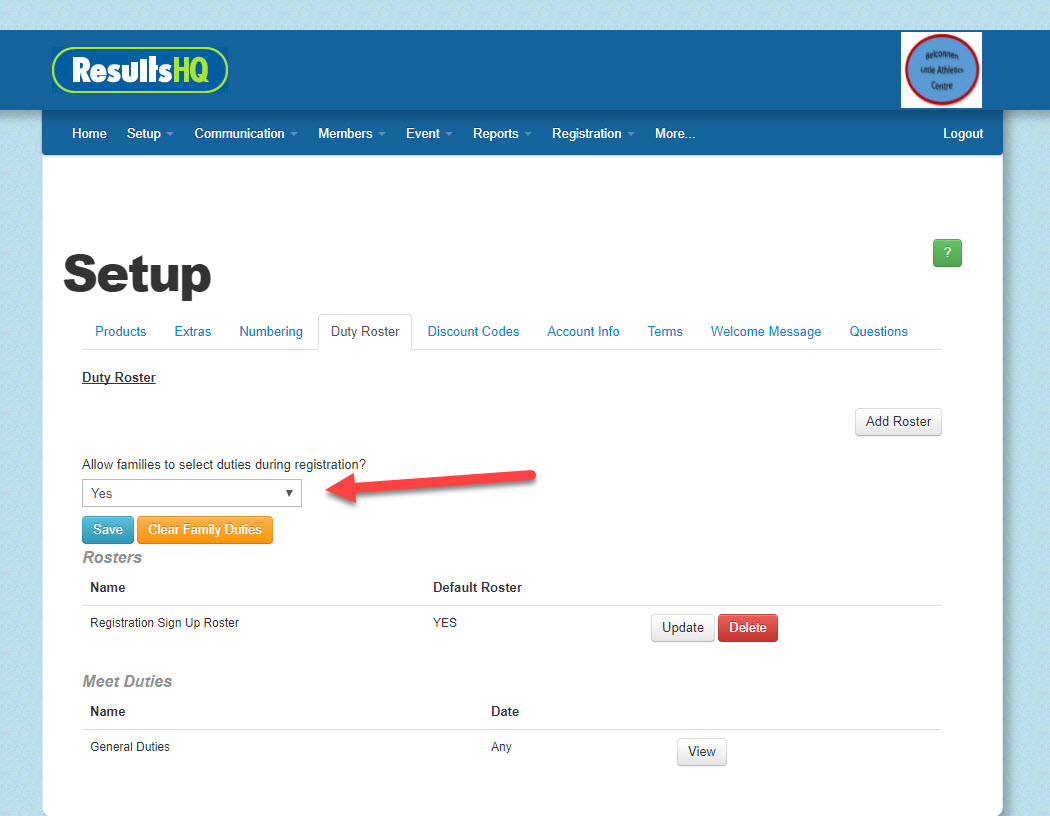 Discount Codes
Discount codes allow you to set up a discount for users to apply like a coupon at the checkout.
Follow these steps to set this up:
1. Click on Registrations - Setup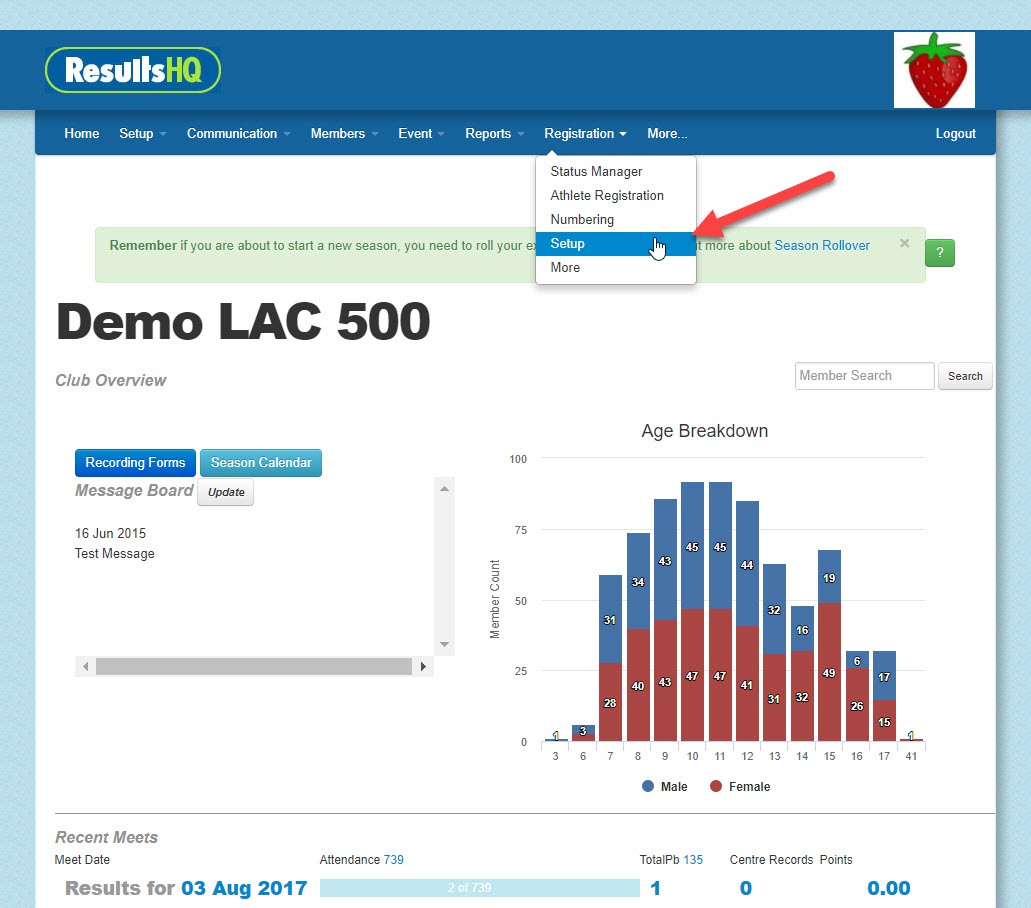 2. Then click on the Discount Codes then Add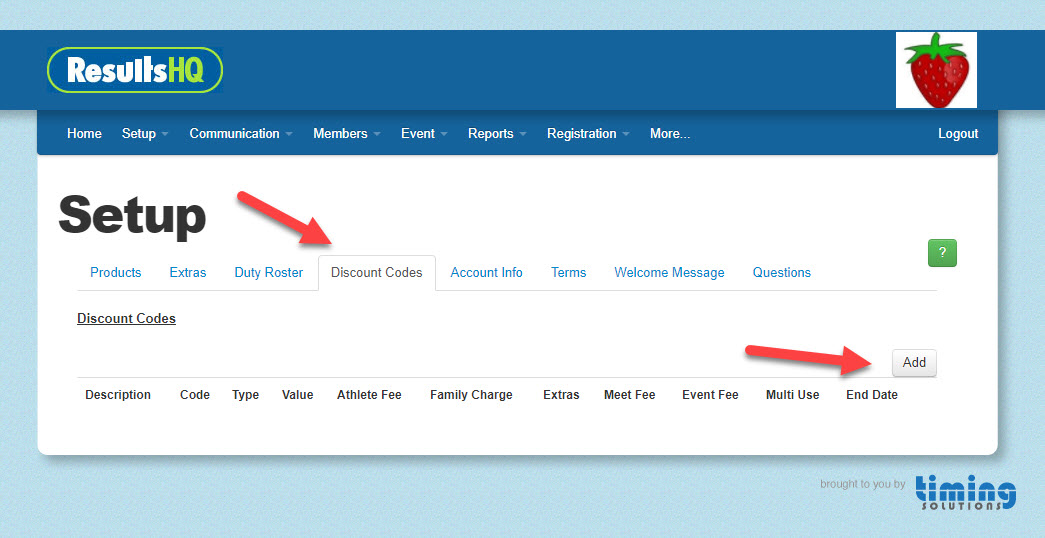 3. Next steps are to fill in the relevant fields then press create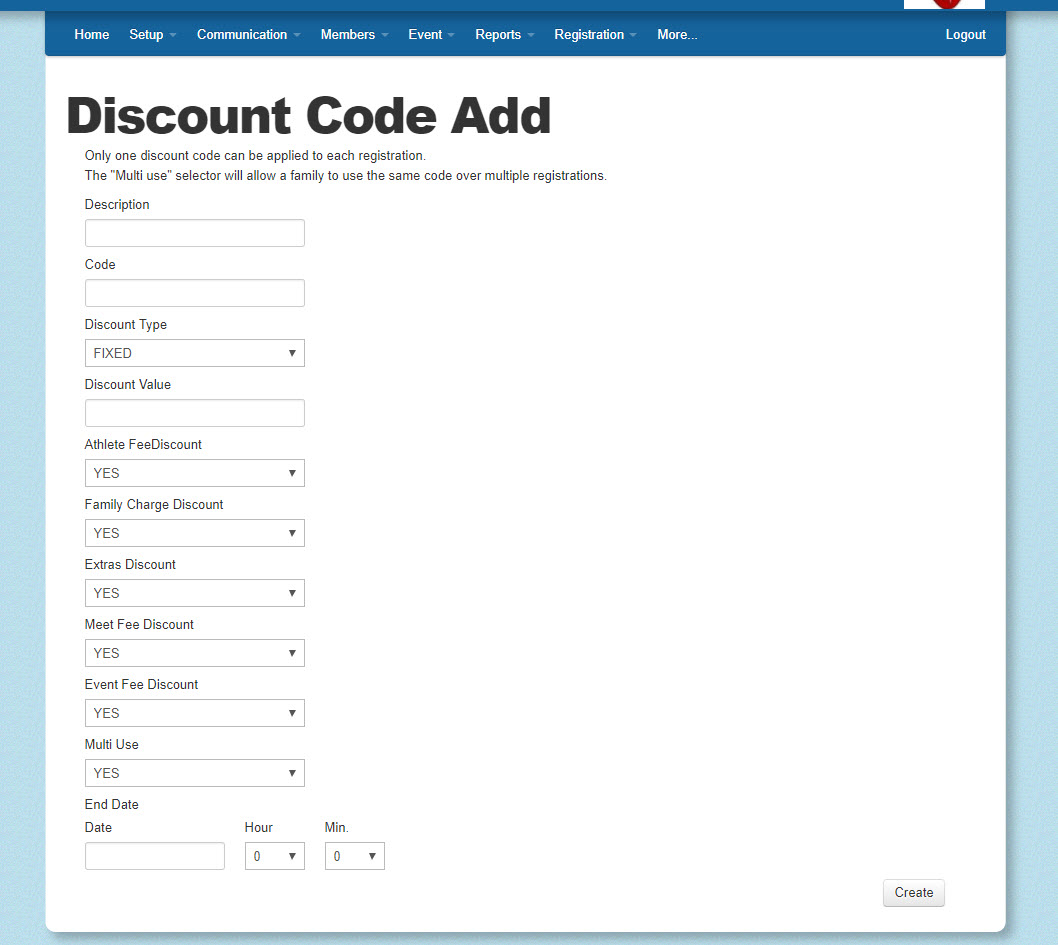 Terms
Your centre/organisation may want to register users to have to agree to particular statements/terms and conditions as a part of joining. This is how you do that:
1. Go to Registrations - Setup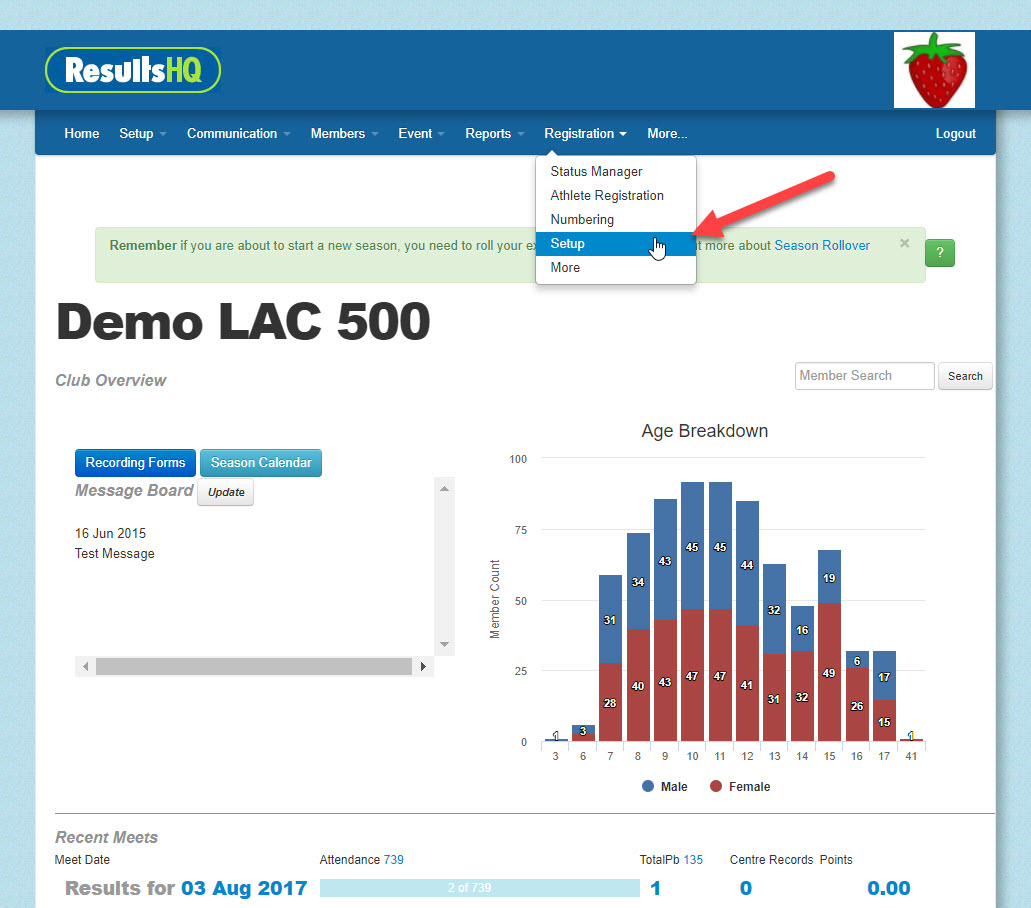 2. Click on Terms then Add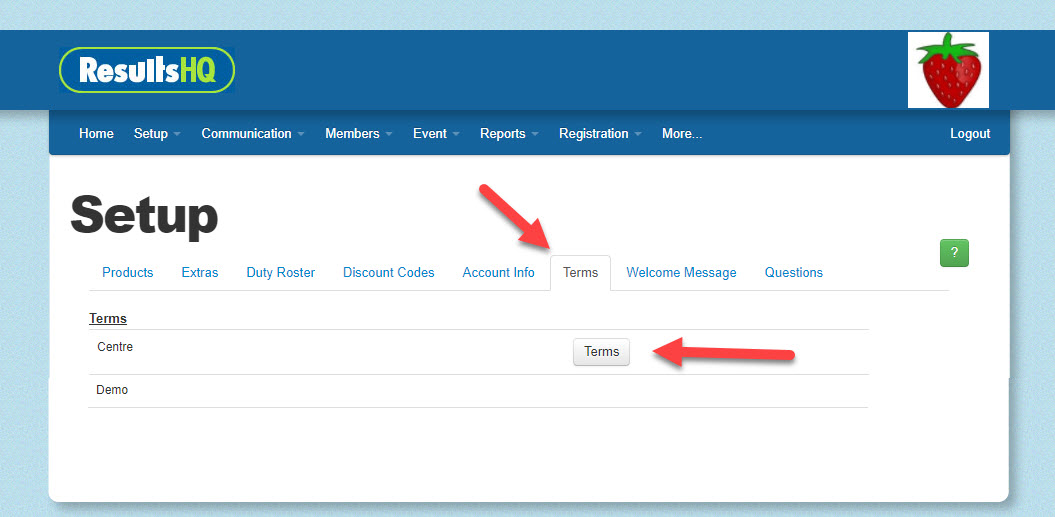 3. Fill in the content and press submit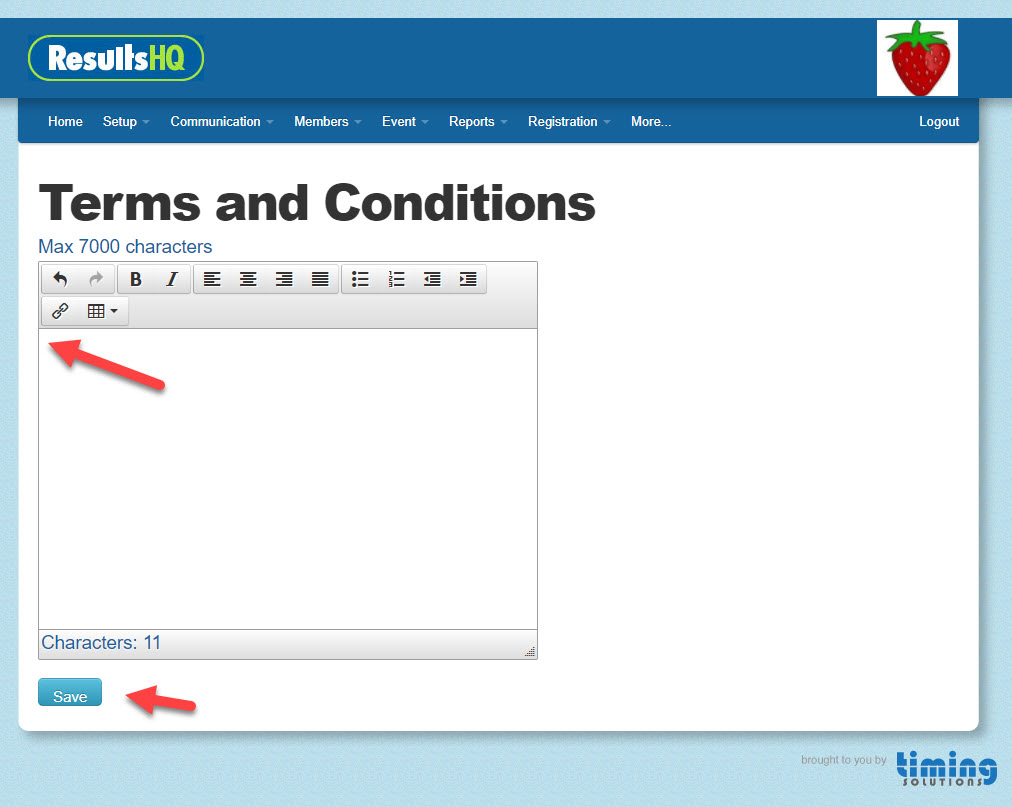 4. Now that you have your terms set up, you need to have a leading question asking the users to read your terms e.g. "Please read and agree to our terms..." To do this you need to set up a Question...click here to find out more
Send out a Registration Welcome Message
Want to tell your members something once they've registered? Good idea! Now you can.
You can write a customised and formatted email that will get sent out automatically from ResultsHQ once a member has:
Registered Online

Has been registered in the Athlete Registration form in ResultsHQ

Has been uploaded as registration from RegistrationHQ
Note: This will come from your organisation's email address if you have followed the email verification process. Click here for more details
What would you want to tell your members once they register?
There are lots of things that you may want to communicate, but here are some suggestions:
Let your members know when the season starts and where your ground is
Discuss training nights that your different Clubs may have
Give payment instructions, for instance, to send electronic funds transfer to a particular account, or to come down to your club on a particular day with cash payment
Direct them to your website
Talk about duty rosters
How to set up and automatically send a Welcome Message
1. Click on Registration - Setup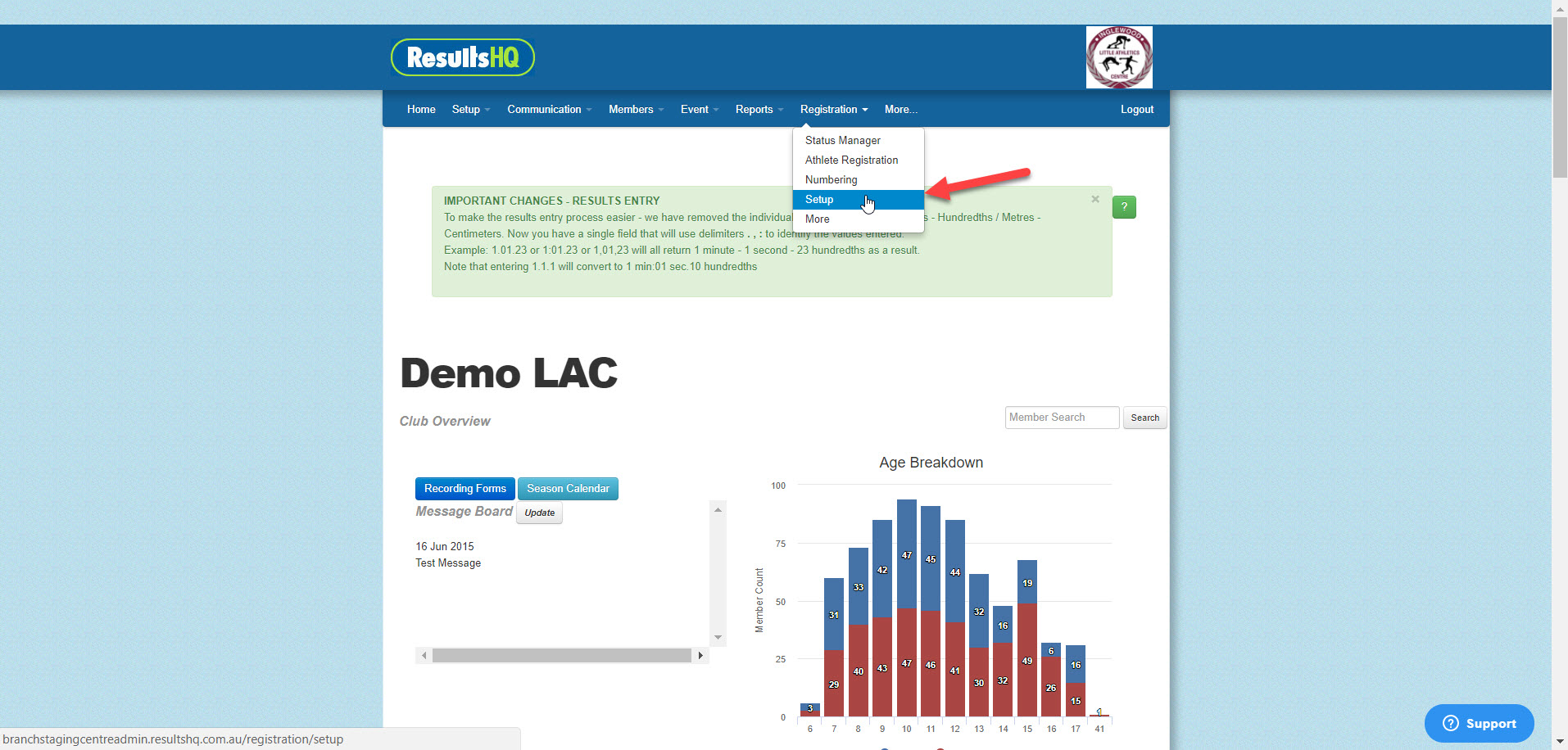 2. The Setup screen has many things you can do. Click on the Welcome message tab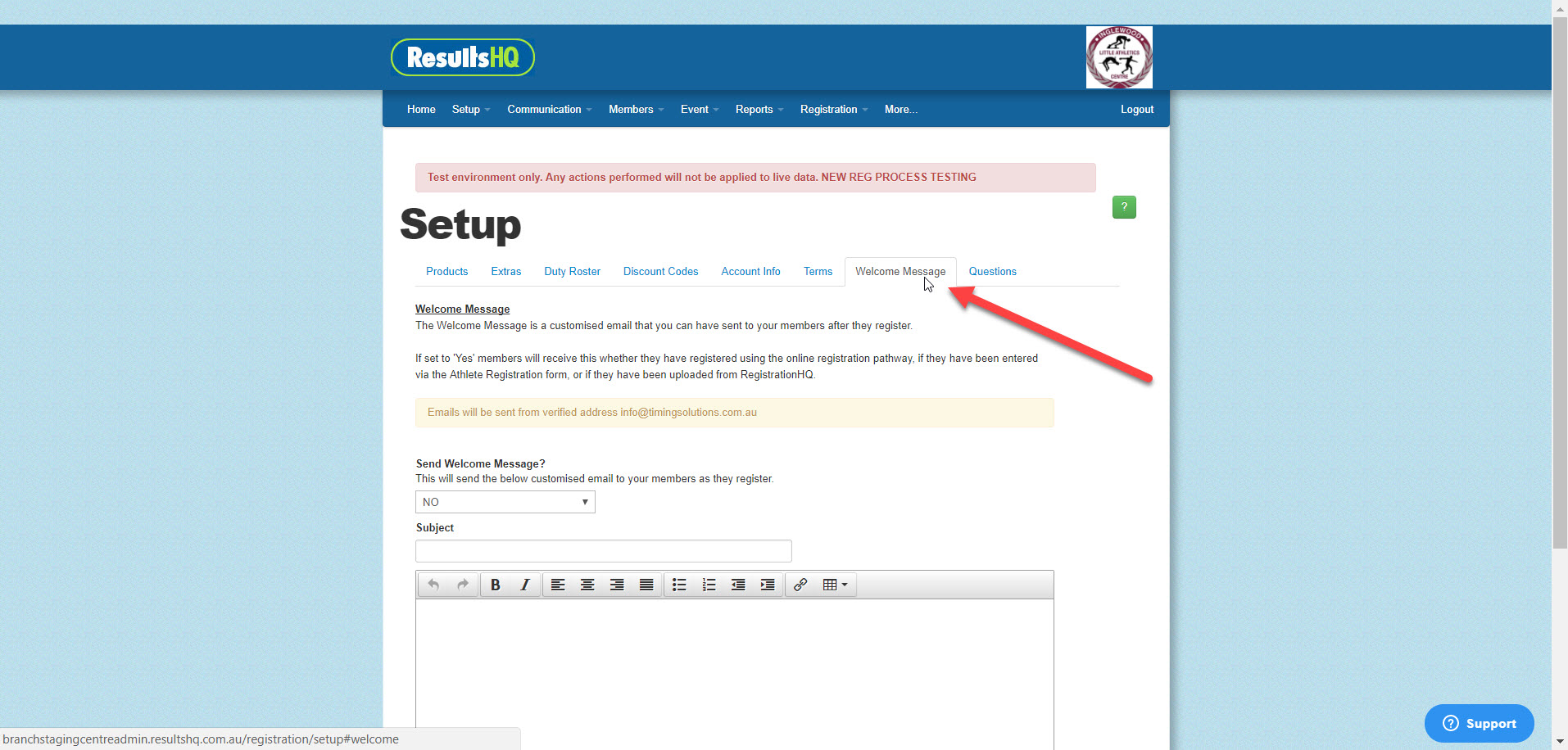 3. In here you can:
Choose to turn on the Welcome Message for your organisation (hint: Choose Yes at the top drop-down, and then press Submit at the bottom of the page)
Add a Subject of your Welcome Email, and add content including formatting to your email body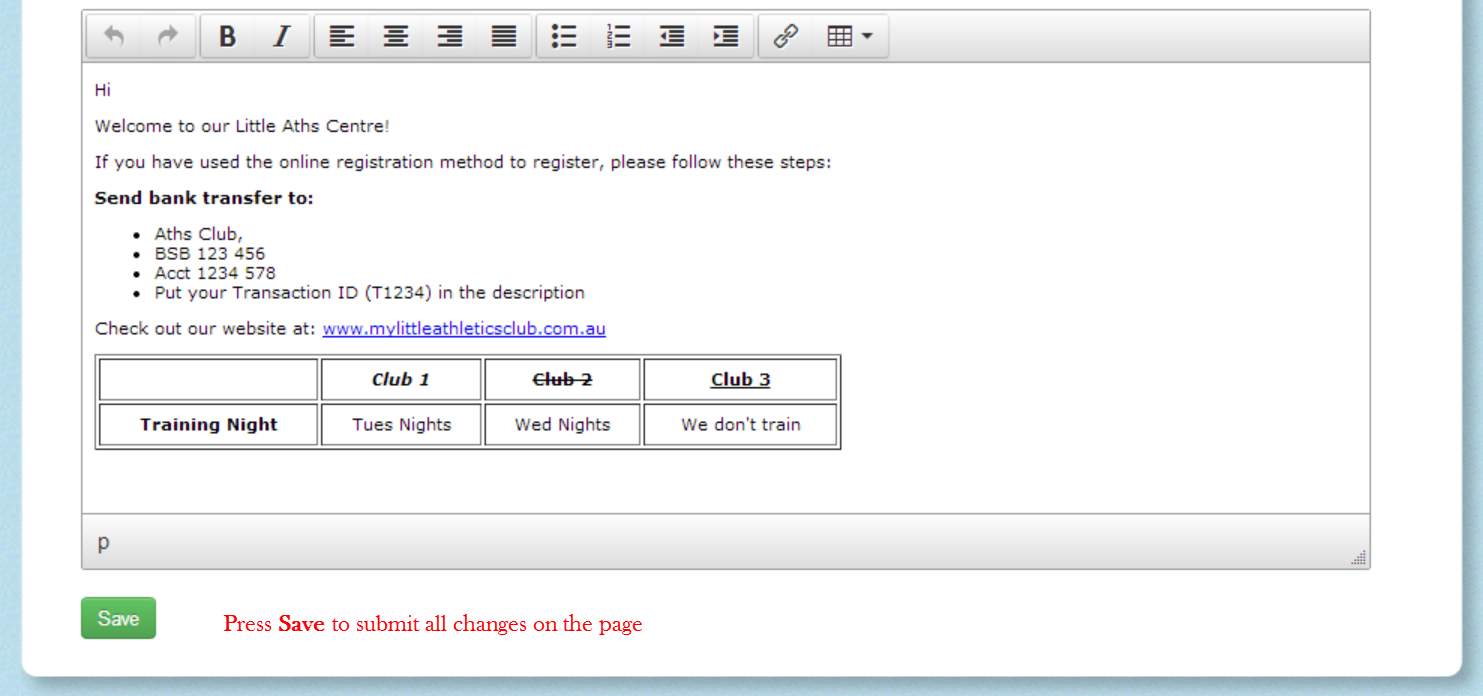 What do your Members see once they register?
Once your members have been registered by the options listed at the top of this topic, they will receive two emails:
The customised and optional Welcome Message above. Note: This will come from your organisation's email address if you have followed the email verification process. Click here for more details
A standard ResultsHQ email will include their username and password and some instructions on how to log in
Below are some screenshots of what your members will see in their Inbox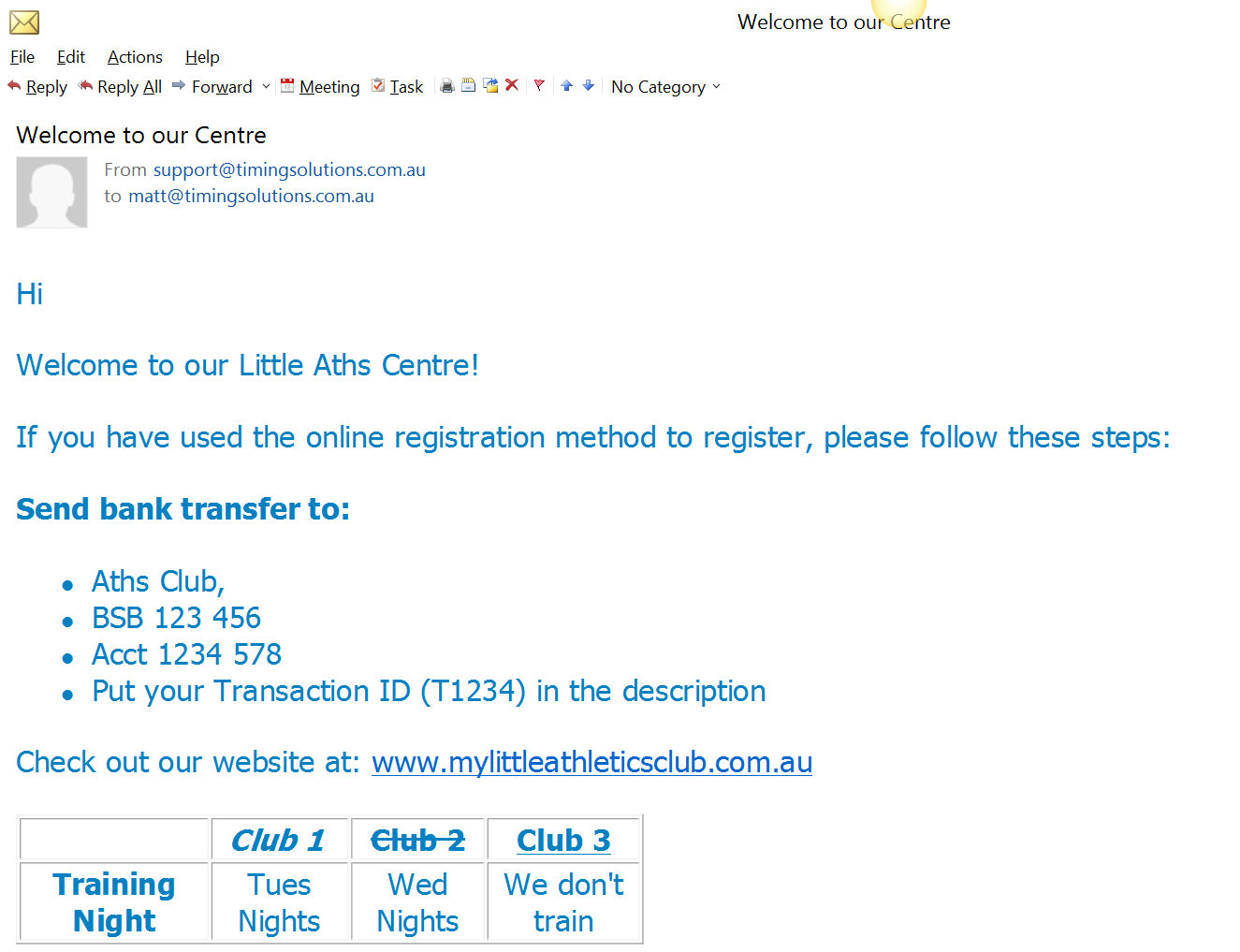 Options - Bank Account Details, Absorb Fees and Private Registrations
Please fill in the Bank Account details so we can pay you the balance of your registrations revenue.
Note: The state body fill and our registration platform fee will be taken out before the funds are returned to you. This way you receive what is owing to you and you do not need to pay anyone else (state body or timing solutions).
**Find out more about the Payment Cycle/process
Please go to:
1. Go to Registrations - Setup - Options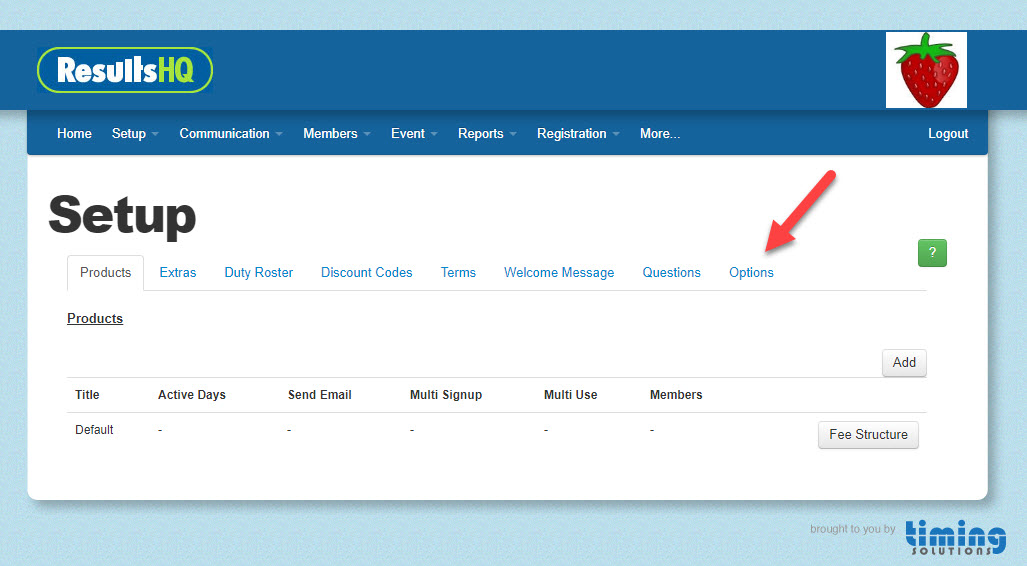 2. The options page lets you
*1 - Account Information - fill in your bank account details so we know where to transfer your registrations back to you to you
*2 - Absorb processing fees - decide if you want to absorb the registration fees or not for your centre...more
*3 - Private Registrations - allow your centre to turn off your registrations while testing etc. Note the direct link to your registration home page is available here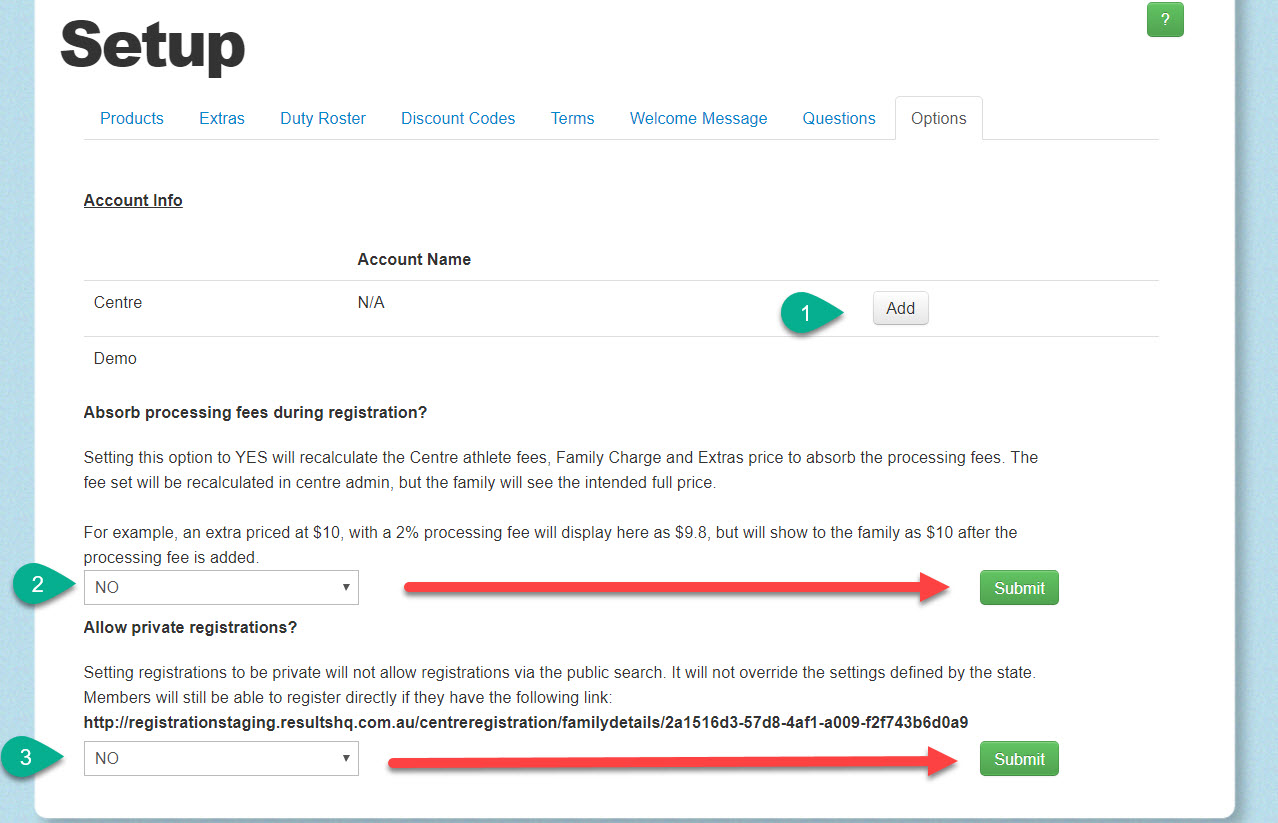 3. To add your bank details click on the add button as per above and then, key in your details and press submit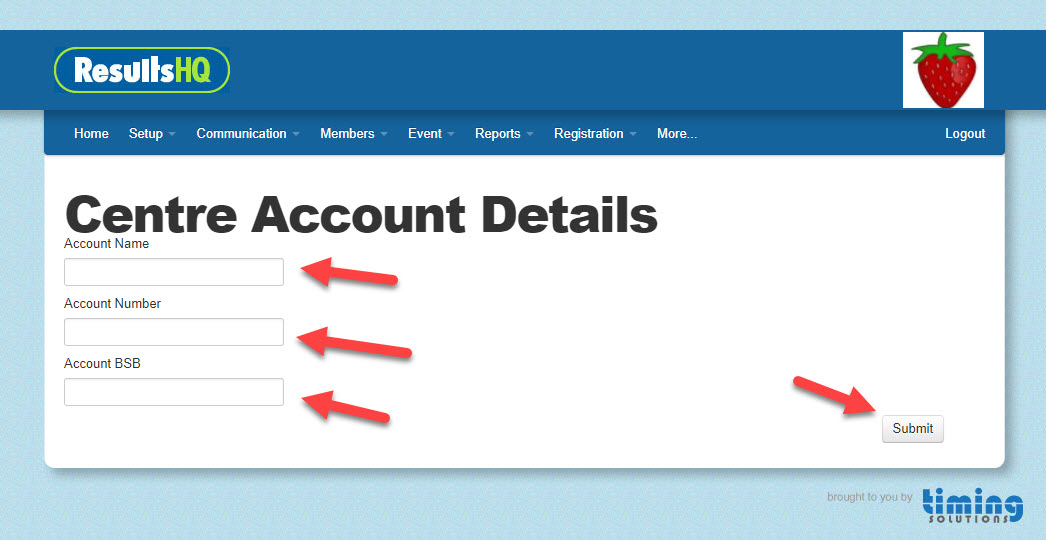 Payment Cycle - getting your online registrations money
All online payments for Credit/Debit Card and PayPal go directly to Timing Solutions. The logic and timeframes behind your centre and state getting their fees (disbursement) are outlined below:
Every Sunday afternoon/evening Timing Solutions (TS) will conduct a Batch for all Centres. This will catch all those athletes that have paid (not focused on Proof of Age or Athlete #) for the new batch period (since last week's batch). The appropriate funds from that Sunday batch will then be sent to the state body and Centres on the following Friday to their respective nominated bank accounts. TS will repeat this process each week.
All nominated bank accounts must be verified before TS can disburse the funds. As part of the verification process, the first payment into Centre accounts (set up this account info) will be a small amount less than $4 which must be confirmed by the receiving Centre to prove that TS has the Centre's correct bank account details. Once the Centre replies to TS with the exact value amount, the nominated bank account will be marked Verified and TS will be able to transfer any amounts owing as part of the disbursement process. The verification process will only ever be required for that Centre again if they change bank details.
Turning On Registration Platform
If you have set up all your registration areas and are ready to open registrations there is a checklist for you:
Once you are happy with those various settings, the next steps are:
Set your Private Registrations setting to Yes, so when we turn your registrations on it will only be open to you via that private link
Then email support@timingsolutions.com.au asking for your registrations to be turned on
We will then check the items above too. After your set up is confirmed, we will turn registrations On and then reply back to you
Once you have completed your first couple of private registrations, you will be able to make your registrations public. You could provide the link from your centres landing registration page.