You may wish to notify your members of upcoming events, duties, or cancellation of competition. This help topic will help you with that.
Sending Email
1. From within your ResultsHQ portal, select the Settings button in the top right of the screen
2. Select the Communicate button from under the Centre Communications heading
3. There are a number of features to pay attention to on this page. Let's look at them now:
The sending email is by default "noreplay@resultshq.com.au" unless you have set up an email for the centre in Profile details and verified it, or you as a user have verified your own email
Filters are available to let you narrow down to a particular family or group of athletes for an event etc
Once you have selected your filters to click the Refine Family to shortlist the potential families you want to send the message to
The list of families available is not selected by default. Highlight a single, multiple or all the families based on what you are looking to achieve
If you have other external email addresses you want to include then you can add them here
Choose to either send an SMS or Email
Give the email a Subject
Choose if you want to send to the Primary email, the secondary or both
Add in Tags for the family name and or Username to help make the email more personal
Add an attachment if you need to
Fill in your content for the email body. You have some basic tools for editing at the top of the content screen
Send a test/preview email to yourself or someone else first to make sure it looks as expected
Then when ready press the green Send. Note you can not press the green Send button until you have sent a test/preview email
The email sent/history is below with how and what was sent and when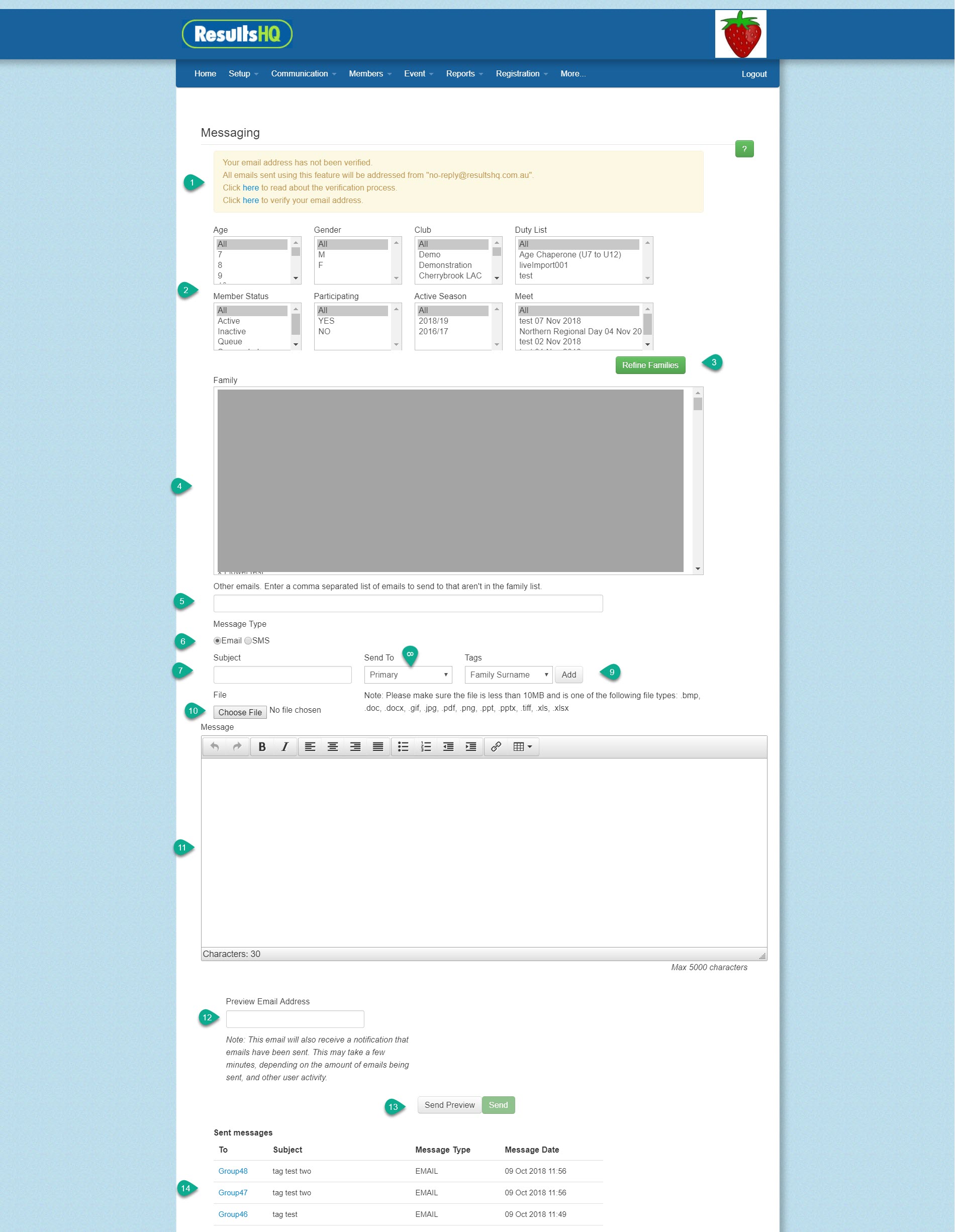 Verify your email address
By default, ResultsHQ will send out emails from a generic address called no-reply@resultshq.com.au.
As a user, you have an email, this email is able to be used as your reply email, or you can use the centre's admin email (found in Profile Details) will be the reply to the email. Both these emails will need to be verified first before communicate will be able to use them.
If you do not verify your own email it will send from the verified centre admin email (in Profile Details). If you do not have your own email or the centre admin email verified then it will send from no-reply@
The service provider for Communicate to send out emails is Amazon. This is a US service and is used by consumers worldwide. Please click here for further details from the Amazon site.
In order to verify your email address, follow these steps:
1. Click on the Communicate button with the Settings area
2. You will open to the Communicate page. If you have not verified your email address, a yellow banner will appear at the top of the screen.
Click on the 'click here' link to verify your email address
Note: The default email offered to verify is your own email that your username is using as its profile. If that is verified it will still offer a message saying your centre admin email is available to verify if it has not been verified.
3. Instruction will be sent to Amazon services. Once received, Amazon will send a verification email to the email address of the user who is pressing the verification button.
4. Open the Email, the body of which will appear similar to below.
Click on the verification URL which is indicated below by the red box
5. After you've clicked on the URL, a confirmation message from Amazon will be displayed in your browser as per the below screenshot.
6. Now, back in ResultsHQ, refresh your Communicate page. A new message will be displayed at the top of the screen, indicating from where your emails will be sent.
Happy Emailing!
Setting up an SMS service provider
These are the steps to setting up your SMS provider details and then connecting that profile to ResultsHQ SMS function.
Set up your profile...make sure you use the email address in your Centre Options - "Centre Admin Email (Also 5 Cent SMS service email)"
Add some credit to your account within 5 cent sms
Go back to ResultsHQ - Setup - Profile Details and key in your "5 Cent SMS Password" in the required field and press submit
Confirm the email in centre options is the same as your 5 Cent SMS email
Now that you have connected your 5 cent SMS profile with Centre Options you can start to send out SMS to members in your member list.