The PB area lets you set up points and setting around what constitutes a PB and if you want to recognise equal PBs or not.
These are the topics available in this article:
Recalculating Personal Best's
Personal Best results will be calculated whenever you press Save Changes in results entry mode, or if you upload from RaceHQ or another source. This will compare the result entered versus previous results, and if better than the previous best result then a PB will be triggered.
There will be times when you will need to recalculate PBs for certain dates, as you may have gone into past dates and updated results. Within the Results entry area, press Recalculate PB's – this process may run for 10 to 30 seconds and will display text at the top of the form that PBs have been calculated successfully when it is finished.
Please note: The PB recalculation is for this one date only. You must then recalculate every date which may be affected.
Personal Best Count vs Personal Best Points
There is a difference between a Personal Best (PB) count (automatically calculated) and PB points (actual points for getting a PB, which is not automatically calculated) FYI for more information on points and calculating check out
Points Overview
PB Options
1. Go to Setup - Points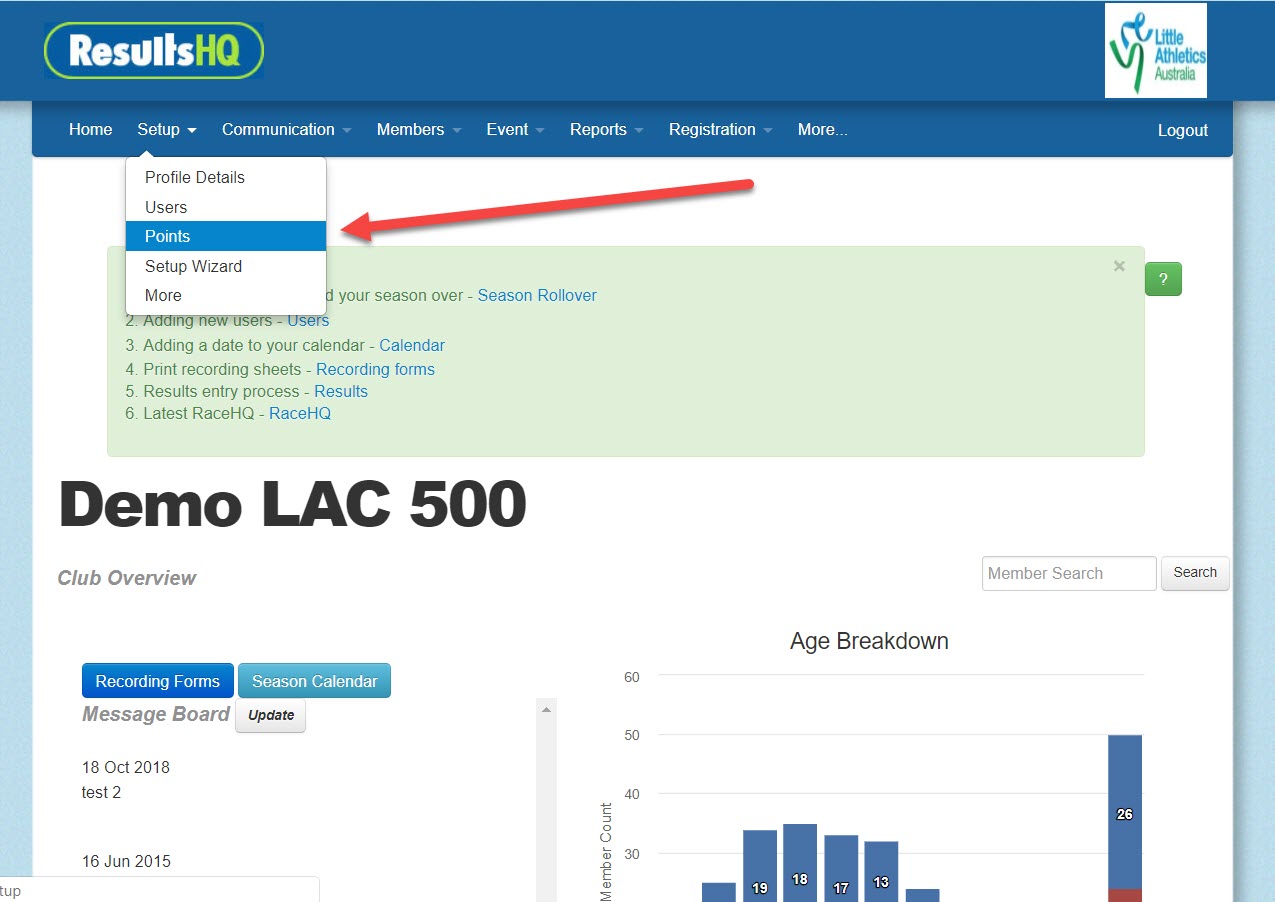 2. Then click on PB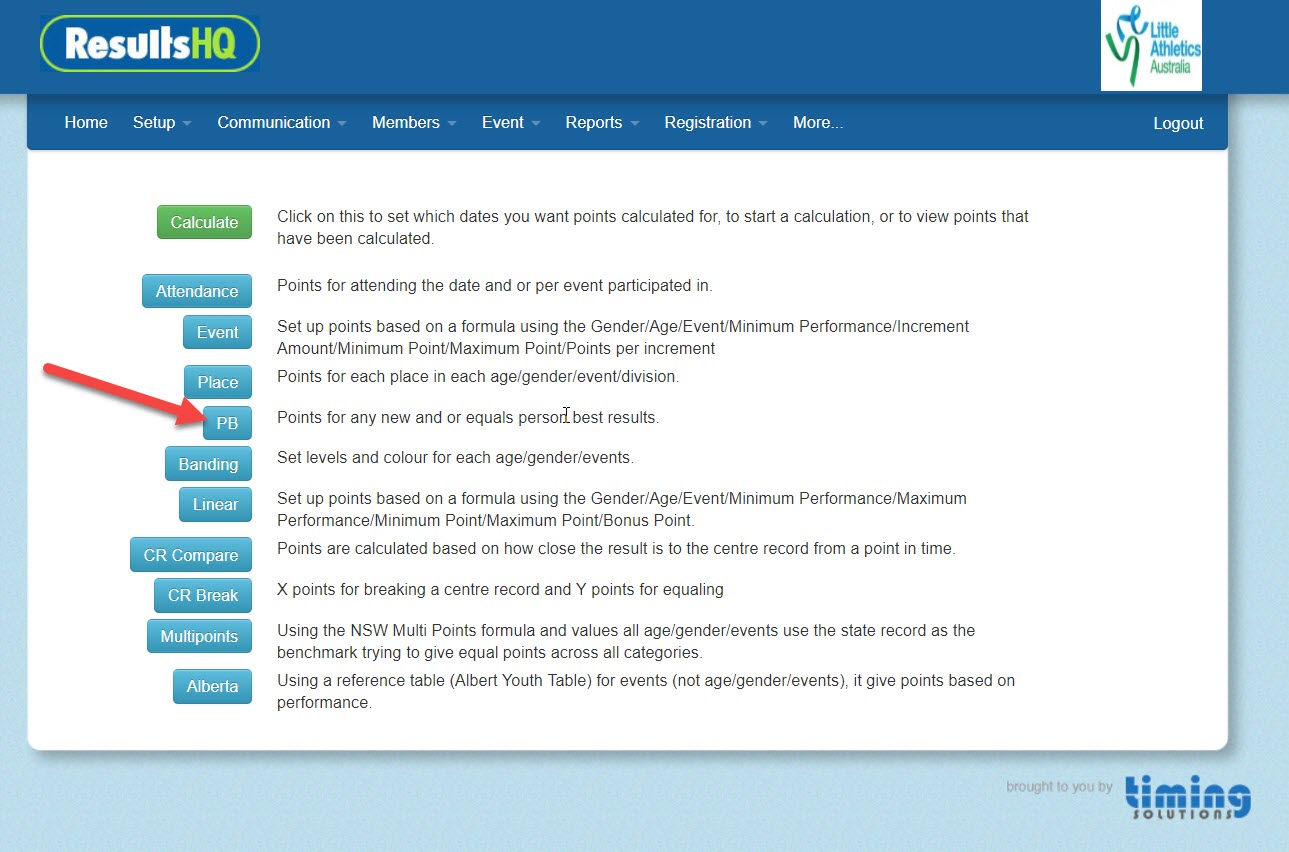 3. There are a few settings on this screen to talk through
Exclude athlete first result - do you want everyone to get a PB on their first result or do they have to better their first result to then get a PB?
Equal PB - do you want to flag if an athlete equals a PB (silver star) or not?
Use last seasons PB - if you want to roll over your PB from last season to this season you should enable this
Your settings will only save if you press the Submit button.
(Points) Equal PB - if an athlete gets an Equal PB the athlete will get X points
(Points) Better PB - if an athlete gets a new PB the athlete will get Y points
(Points) Press the Save button if you want it to save your points settings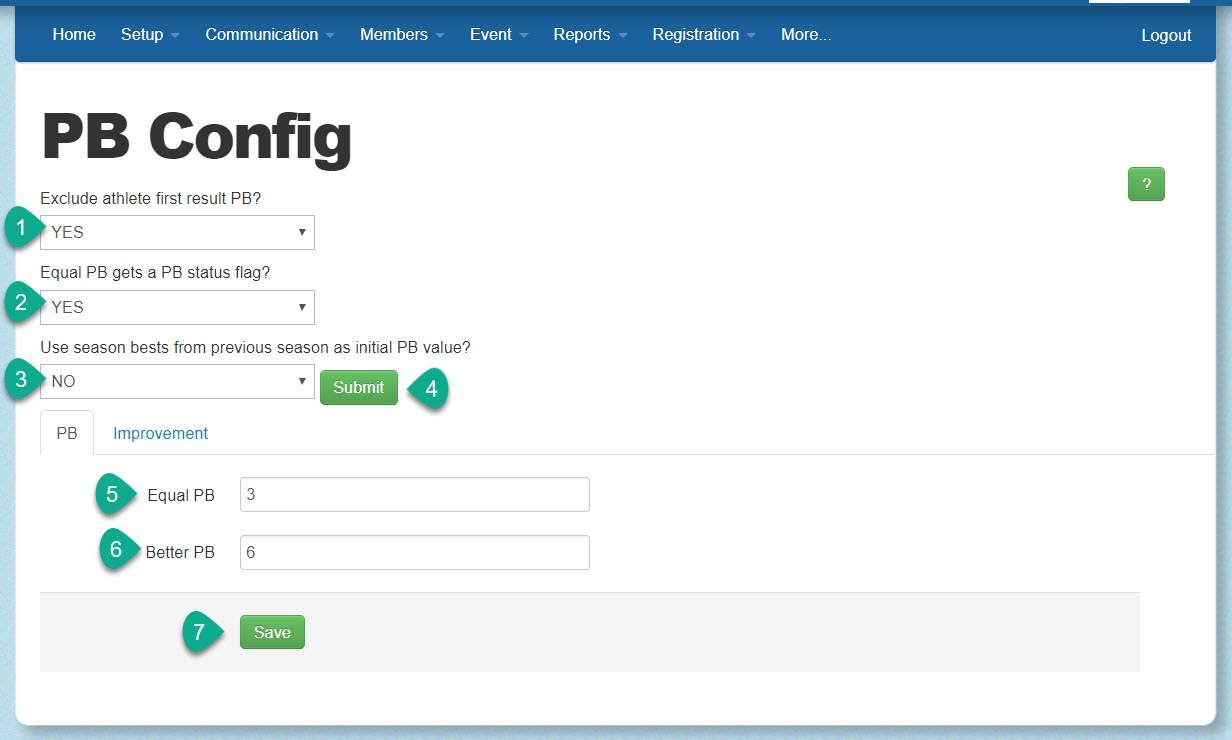 PB Improvement Points
1. For PB Improvement points you will see other settings. It is used to calculate how much better the improvement is when determining the number of Improvement Points to be allocated for a result. This will vary from event to event.
Increments - Increment in which Improvement Points decrease from Maximum to
Minimum
Maximum - Maximum number of Improvement Points that can be achieved for one
result
Minimum - Minimum number of Improvement Points that can be achieved for one
result
Average - Number of Improvement Points if the athlete equals their current
personal best
Start Meet - Do you want to use the PB as the measure or the average to base this on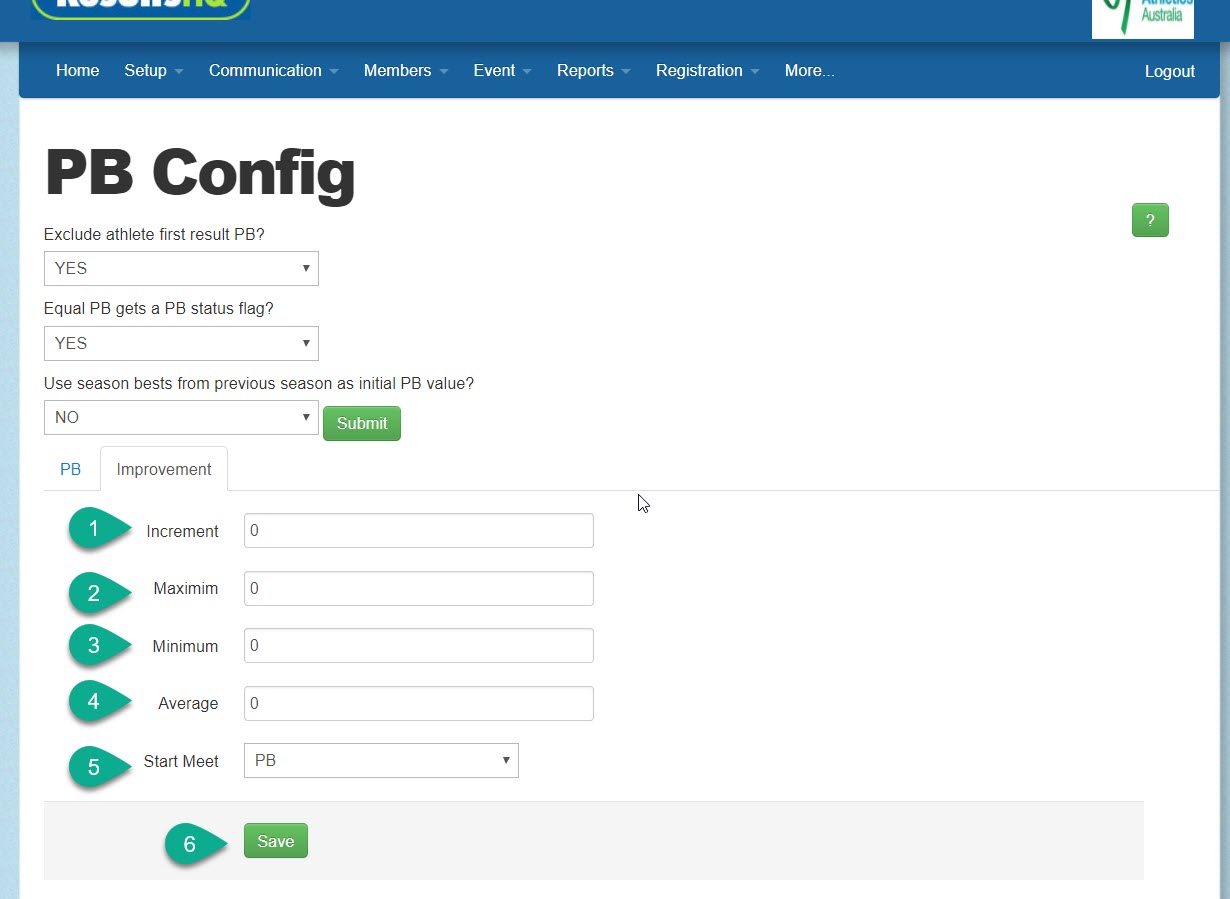 Examples:
Maximum: 15 points
Average: 5 points
Minimum: 1 point
Increment: 1 point
This means that during the competition:
The first time an event is completed 5 points
For failing to achieve a Personal Best (PB) 1 to 4 points
For equalling Personal Best (PB) 5 points
For attaining a Personal Best (PB) 6 – 15 points
100m Sprint
Event Increment: 0.1 seconds
Initial result 15.0secs (5 points)
Second result 14.9secs (6 points)
Third result 15.1secs (3 points)
Fourth result 13secs (15 points)

Shot Put
Event Increment: 0.05 metres
Initial result 6.00m (5 points)
Second result 6.20m (9 points)
Third result 5.80m (1 point)
Fourth result 6.30m (7 points)
Note the increments per event are in the below table.
| | |
| --- | --- |
| Event Description | Improvement Point Increment |
| 50 Metre Run | 0.10 |
| 70 Metre Run | 0.10 |
| 100 Metre Run | 0.10 |
| 200 Metre Run | 0.10 |
| 400 Metre Run | 0.20 |
| 800 Metre Run | 0.50 |
| 1500 Metre Run | 1.00 |
| 3000 Metre Run | 2.50 |
| 700 Metre Walk | 1.00 |
| 1100 Metre Walk | 1.00 |
| 1500 Metre Walk | 2.00 |
| 60 Metre Hurdles | 0.10 |
| 80M Hurdles | 0.10 |
| 90 Metre Hurdles | 0.10 |
| 100 Metre Hurdles | 0.10 |
| 200 Metre Hurdles | 0.10 |
| Long Jump | 0.02 |
| High Jump | 0.01 |
| Triple Jump | 0.03 |
| Shot Put | 0.05 |
| Discus | 0.10 |
| Javelin | 0.10 |
| Turbojav | 1.00 |
| Play Hurdles | 1.00 |
| Bean Bag | 1.00 |
| 150M Run | 0.10 |
| 300M Run | 0.20 |
| 500M Run | 0.20 |
| 700M Run | 0.50 |
| Play High Jump | 1.00 |