By using the Report Builder you can build exports of results and other items using filters for clubs, dates, events, and even specific athletes.
Tip: User Profiles You can set up a specific ResultsHQ User Profile that only access this screen, therefore they can produce specific reports for themselves. An example would be a coach, or a club official who may want to do some further analysis on results. For more information on how to setup specific User Profiles click here for the specific forum topic
The Report Builder
1. From within your ResultsHQ profile select the Reports button at the top menu
2. From the dropdown menu select the Report Builder button

3.
Choose the
categories of Members
that would like to report on from the three filters at the top of the page
By using the various filters you can select very specific information that you would like to export, fields are described below (and refer to to screen shot)
Note; Remember to use the Ctrl and Shift keys to select multiple items in lists/filters
Club you may wish to select all clubs, or only specific clubs to export data for
Age select the age groups that would like to report on
Gender Choose the Gender you would like to report on
4.
Now that you select the categories of members, press
Refine Members.
This will provide a shortlist of Members who meet the selected critera, in the
Athlete
List. Either choose
All
or select
specific
athletes from the list that you would like to report on
5. Now select the date (s) that you would like to report on
6. Now you can select specific Events based on what is available or select all to report on all events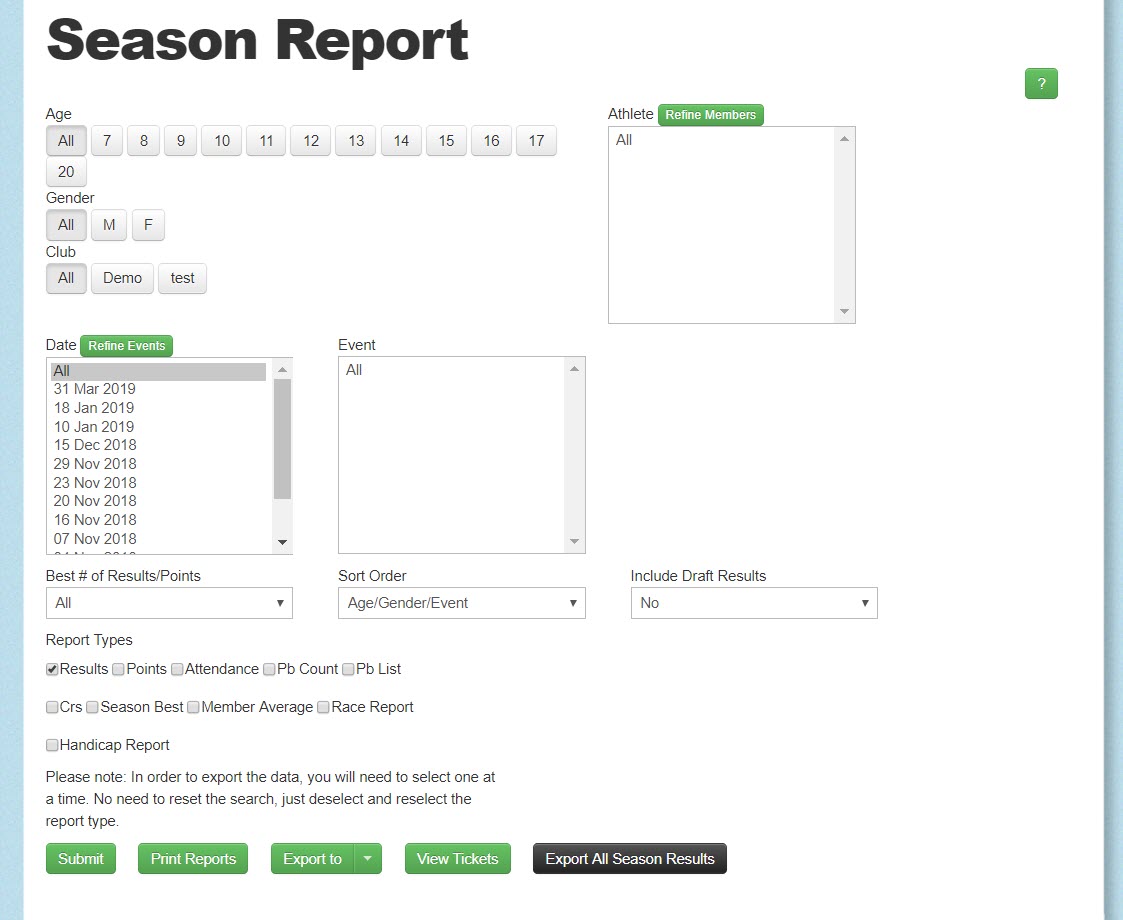 Note: The above button 'Export to CSV' has now been replaced with a drop down list from which you can choose from: Excel or CSV. The Excel export will have full formatting applied to results such as two decimal places in times with minutes
7.
Report Types:
From the checkboxes under the
Report Types
heading, choose what type of data you would like to report on. An explanation of each type is included below
Results: Based on the filters selected, this will display the actual results achieved by the athletes
Points: This will display the points that the relevant athletes have received for each event and date
Attendance: This will display that attendance count for each member
PBs: This will display a count or list of PBs against each member
CRs: This will display the Centre Records achieved and by which members
Season Best: This will display the Season Best result for each member and event, similar to what is displayed on Results Recording Sheets
Member Average: This will display an average per member per event based on the the results they have achieved per date
8. Best Number of Results:
: You may wish to only choose the best X number of results (eg. top 3), so select this from the Best # of Results drop down
You have now updated all of the filters for your report to be produced. There are many different ways you may wish to view your data, explained below
Viewing your Report
Based on what type of report you are trying to produce, you can choose from the below options. Press the relevant button to display the selected data in that fashion. For best outcomes we suggest using Google Chrome as your web browser
On Screen: Press the Submit button to view the information at the bottom of the browser screen
Print/PDF: Press the Print Report button to produce a printable format in a new web browser - once it is displayed, right click on the page and select print and either produce to a printer or to PDF
Export: Press Export to CSV to view your data in Excel where it can be further manipulated and analysed. A file will be produced/ downloaded by your web browser. Choose to save it somewhere safe and then open it in Excel. Please note: In order to export the data to CSV, you will need to select one Report Type at a time. There is no need to reset the filters each time, just deselect one Report Type and reselect another before pressing Export to CSV again
Results Tickets: Press the Results Tickets button to produce results in a ticket format - see help topic

Results Tickets

for further details
Save a Report
Template for next time
You are able to save a template of the filters that you have selected for use next time. To do this:
1. Select the filters for you report, and select the Report Types required.
2. Type a name that you would like to save the report template under in the blank field next to the Save Report Options button
3. Press the Save Report Options Button. The report will be saved, you can now find the template name in the drop down list under Load Options
To use a saved report template
4. Select the template name from under the Load Options drop down list
5. Press Run Saved Report, and your report will be displayed
To delete a saved report template
6. Select the template name from under the Load Options drop down list
7. Press the red trash can icon and the report template will be removed

Example of report display on screen
Below is example of viewing selecting Report Types: Points, PBs, CRs, Attendance