Timing Solutions aims to provide high levels of customer service. With your assistance and feedback, we seek to continuously improve our service by responding to the changing needs of our users; by providing access to the hardware, software and support; and by safeguarding your personal information.
This Charter sets out the standard of service you can expect from us. Timing Solutions will:
treat you with courtesy and professionalism and address any issues efficiently
communicate with you in clear, straightforward language
provide hardware and software to improve the efficiency of your results management and nominations/registrations
we are available to support our hardware and software via online form/content, videos, webinars, email/phone and onsite
welcome your suggestions and comments
deal promptly and appropriately with feedback.
Support Process
This is a flow chart of the expected support channels and outcomes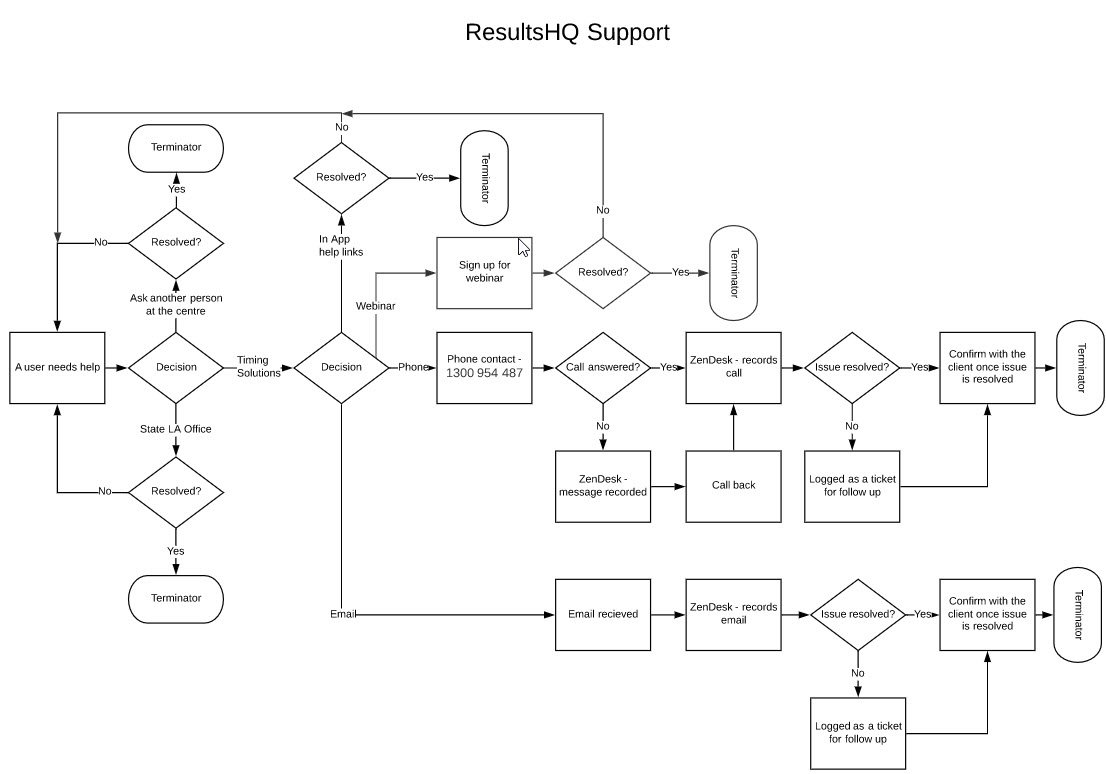 Our purpose
From fast online registration to results capture, storage and display, our products cover the entire sports-management lifecycle. They can be used independently or as a powerful suite of interlinked products, saving you time, money and the demands put on your staff and volunteers.
By offering a strong national focus in all that we do, and cooperating with others who share our goals, we support the growth of Little Athletics and school sports in Australia.
Our Products & Services
We are dedicated to meeting your information needs and facilitating access to our collections and services promptly and efficiently. Our services include:
ResultsHQ - allows you to roster duties, set up programs, enter and display results, issue reports, send announcements, create athlete profiles, offer secure family logins. Also available as an app for live results entry via CompetitionHQ
Registration - is fast, easy and can be made from any web-enabled device. Data saves straight to ResultsHQ and secure membership payment can also be offered via Stripe and/or PayPal
RaceHQ - timing software for sprints, acceleration, pack, RFID and integration with 3rd party hardware and software
Hardware - includes wireless timing gates, start device, start speakers, RFID and clocks
Our targets
We aim to:
respond to support requests within 3hrs of being lodged, provided they are within support hours (Mon- Fri 9 am to 7 pm AEST and Sat - 8 am to 2 pm AEST)
diagnose and provide feedback of serviced hardware items within 3 days of receiving them
dispatch new hardware purchases within 7 days of orders being paid for, providing the stock is available. Otherwise, a clearer timeline will be provided.
ensure 99.5% availability of the ResultsHQ platform
ensure our software and hardware are user-friendly and accessible to a broad range of users.
How you can help
To assist us in serving you more effectively, you can:
treat our staff courteously, be respectful of the rights of others
be honest and fair in your expectations
noting our support times Mon- Fri 9 am to 7 pm AEST and Sat - 8 am to 2 pm AEST
handle all collections items with care and respect
let us know how we can improve our services.
Providing feedback
We welcome feedback, both positive and negative so that we are able to improve our services. All comments will be acknowledged, and the majority responded to within 3 hours. For more complex issues, a resolution or explanation will be provided as soon as possible.
Website: User Feedback Form
Contact
Timing Solutions
28 Bull Street
Castlemaine VIC 3450
Phone 1300 954 487
Website: Contact us