Depending on what your Associations policy is on refunds, ResultsHQ can make the process of returning money back to the member that registered simple.
There are 2 main methods of payment for a registration in RegistrationHQ and each has a different end outcome for refunding the member. In all cases a refund is initiated by the Association for Member Fees, any Centre or Club extras or family charges can be refunded by the Centre or Club at any time.
Association Portal - Refunding a Registration (member fees)
In the Association portal here, identify the batch that the registration was part of and then locate the registration items.

Click on the Show Transactions button next to the batch that contains the registration that needs to be refunded.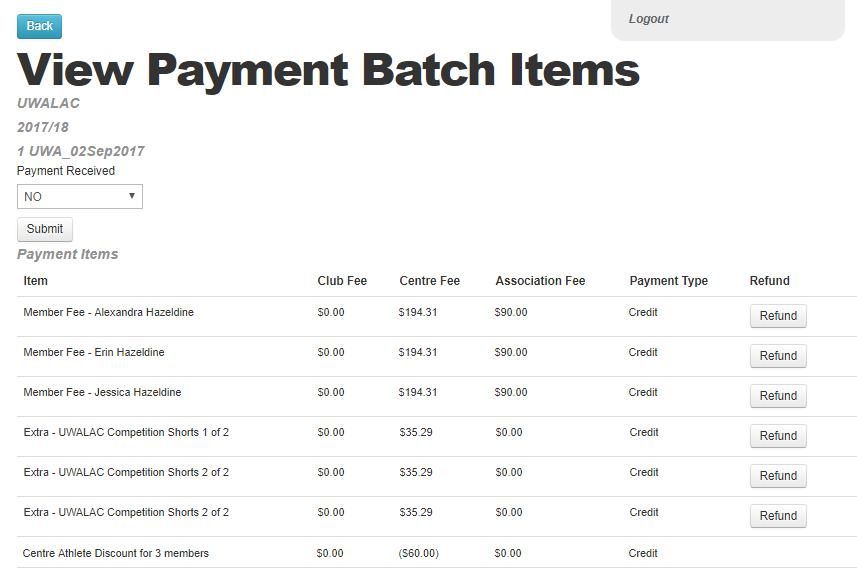 Click the Refund button next to any of the items in the transaction that are to be refunded by the Assocation. Note that only items that include an association fee can be managed by the assocation.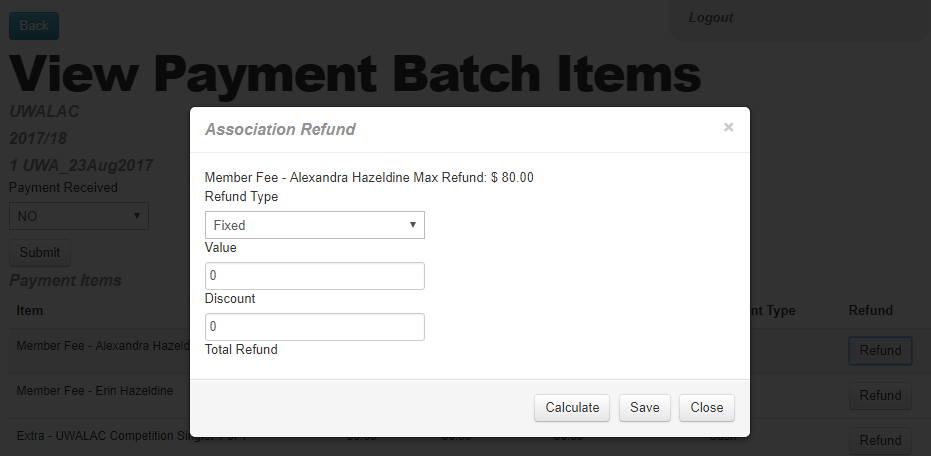 The association can refund any amount or % of the association fees charged in the transaction up to the full amount. After entering the amount and type of refund, click the Calculate button then save if it is what is expected.
The Association then needs to go back to the Payment Batching main page and send the Refund to the Centre to complete.

Centreadmin Portal - Refunding a Registration (member fees)
When a refund has been sent to Centre, the refund will appear in a new tab in Status Manager.

Click Edit to add in any amounts that the Centre has approved to be refunded. If Club Fees exist then they will be managed next prior to Sending to TS to complete the refund. Any additional items that need to be included in the refund can be added at this time.
Refunds will be processed by Timing Solutions (TS) within the existing Batching schedules of 5 days. Refunds will appear on your next batch statement to recover the fees that have been returned to the member. Note that processing fees are not refunded.
Once the refund process is complete, the member is set to History and can no longer participate and record results.