You will need to set up a Club name, regardless of whether you are a single or a multi club Centre. In the case where you do not have any 'Clubs' this will be your Centre name
If you would like these Centre / Club names to be attached to each of your members (eg. for reporting etc) then it is necessary to have the exact same club name against them when you import their registration details
1. Click on More... (top right menu)
2. Click on Club/House (In the Registration menu)
3. The Club/House setup screen will be displayed. There are blank fields at the top of the form which will allow you to enter in you club name details and any related information.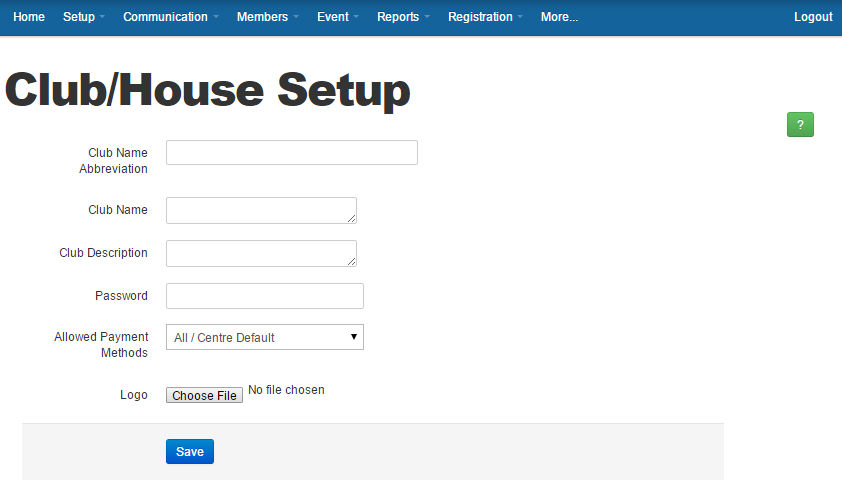 Club Name Abbreviation: Enter and abbreviation for your club name. This will be used in Recording sheets were space is restricted.
Club Name: Enter the full club name here. This will be displayed in processes such as online registration
Club Description: This field will be utlised in the online registration process if using RegistrationHQ. When registering members want to know a bit about your club such as who should register for this club (eg. based on suburb), what nights this club trains on, then they will be provided with this description when they select the club name
Password: Enter a password specific to this club. This is for future features, such as Club specific reporting access
Allowed Payment Methods: For the Registration module this allows your Clubs to have differing payment methods to the Centre default if required.
4. Once update has been made, press Save.
5. Repeat this for your other Club names if required.
6. Updating / Deleting If you need to make an update to an existing Club, simply press the Update button. If you Delete a club name it will REMOVE the club against all associated members (regardless of their status) so only do this if there are no members associated with the Club