When managing your meet with ResultsHQ sometimes you do not want results to automatically post to all your athletes family results portal. Draft Event management is a new feature that allows you to hold up results in the system and publish when any official checks have been completed.
Setup
1. Go to Setup - Profile Details and navigate down to the bottom of the page.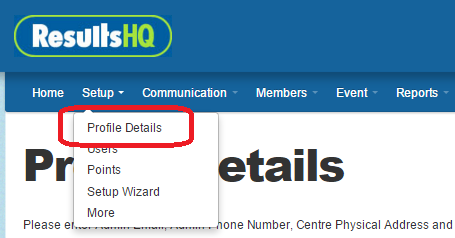 2. Setting Draft Results to Yes will activate the Draft feature, and you then have the choice of hiding or showing Draft results on the family portal.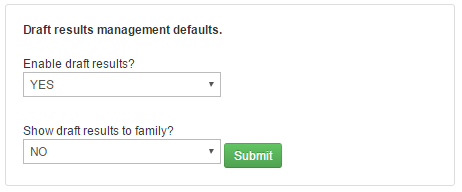 3. Create new meet from Season Calendar
With the settings activated creating new meets will provide the option to use the new Draft settings defined in 2.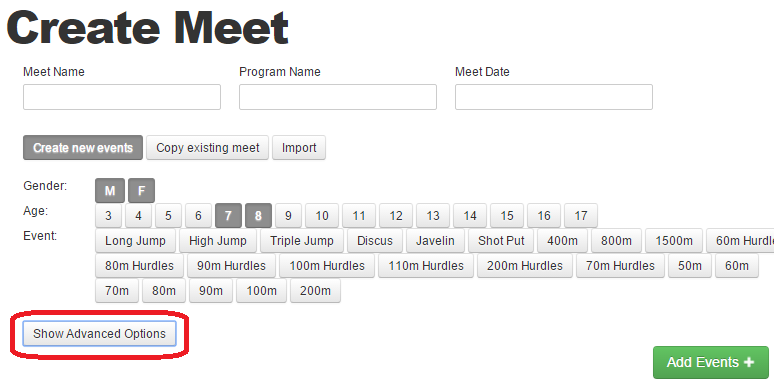 Click on Show Advanced Options to confirm the settings that will apply to the Meet.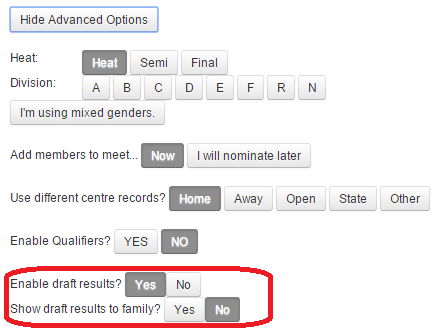 4. Results Entry
Whether results are entered directly from the track via RaceHQ, web results portals on mobile devices or in ResultsHQ results entry - all results will be tagged as Draft.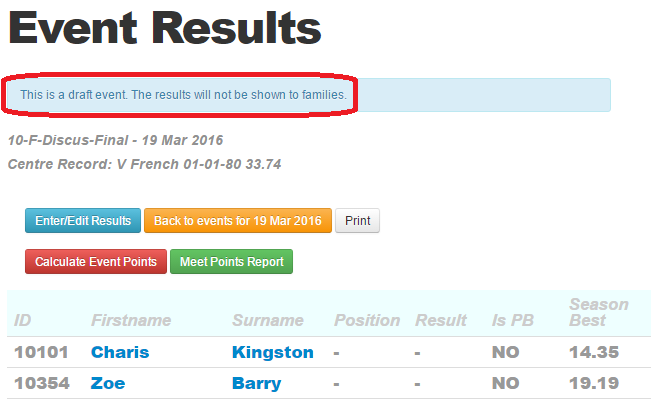 5. Making the results Official (and visible to the families)
From Season Calendar - Meet Options for the specific Meet, open the Draft Results page to manage the results.

Clicking the Event name provides a summary of the Results with buttons to the right to Publish the results to the family Portal, Make the Result Official and finally Convert the event to a straight Final (if required)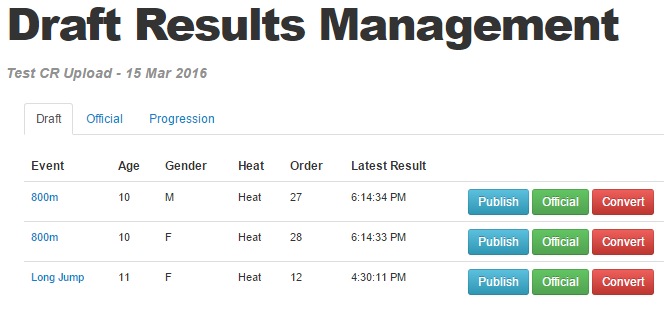 Once Results are official they move over to the Official Tab allowing further management to occur.

Hide puts the results back to being no longer visible to the family portal, Draft reverts the Result to Draft status and Convert allows the event to be adjusted to a straight Final. Final events provide option to print a medal award form to aid in medal ceremonies.
6. Progression of Events to Final
The final tab in the Draft Management page provides the ability to progress heats to finals using the IAAF rules for progression. Based on the default parameters setup in the More - Global Lane Setup page, a final will be created from the top place getters from each heat followed by overall fastest from all heats up to the number of lanes specified.
NOTE - Draft results will not be included in Points Calculations.