If you are running a championship program, ResultsHQ can now support you with a set of advanced Meet Management tools.
Heats to Finals
Run multiple Heats then progress those with the best times to a final event. The Race Lane setup is required to activate this feature as the IAAF progression works on allocating a number of athletes to progress from each heat to the final. Click here for help with setting up your Heats.
1. Locate the Progression Page
The button to get to the Progression page is found in the Meet Options section of your Manage Meet screen (Season Calendar - View)
2. Manage the Event results to Semi/Final event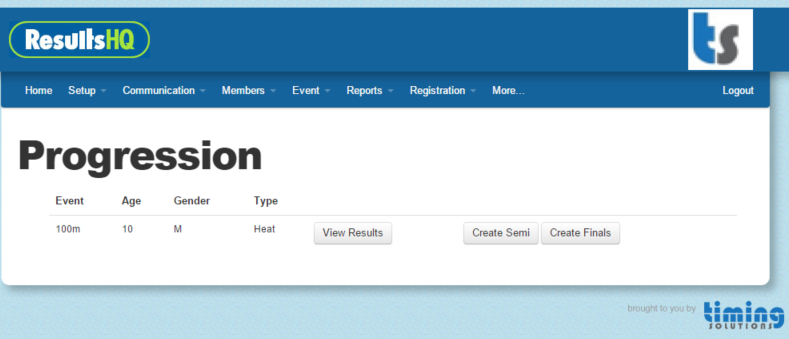 If you have already setup the place holder event in your program, then creating the semi or final will use the setup event, otherwise it will create a new event in your program and apply the athletes to that.
3. Setup Final and print off Recording Forms
The default in the system is to create an 8 lane final and depending on the number of heats with results the top 1-3 athletes from each heat will progress. The fastest athletes from the remaining fill the remaining lanes in the final.
Set up the lanes and use the print button to generate a Recording form for Marshalling to use and you are done.