This topic covers the following topics:
Hardware Drivers
WiFi Timing Hub (Dongle) driver: Click here to download. This is required for your WiFi Timing Hub to be recognised by your computer. If using any Timing Solutions WiFi equipment you MUST install this on the computers that are being used. This driver should be installed before the wireless dongle is inserted into your computer USB socket)
ZK-105 Close Range RFID Reader driver: Click here to download.

FDY-8100U Close Range Reader driver:

click

here

USB to Serial adaptor driver:

c

lick

here
What is firmware?
Firmware is software that determines how a specific piece of hardware will work. In this case, we are talking about firmware which operates our Wireless Timing Gates, and separate firmware that operates the Wireless Starting Devices
Why would I want to update the firmware?
We may create new firmware that causes our hardware to work in a more efficient manner, or have new features. In order to have your hardware working at their highest potential, it is required that you update the firmware that exists on your particular hardware items.
What items do I need to do a firmware update?
Firmware updates require you to have the following items:
1. The latest version of RaceHQ - Latest Software to Download
2. Your hardware (wireless timing gates and/or wireless starting devices)
3. Your wireless USB dongle and USB cable
The firmware update involves a wireless communication between your laptop and the hardware devices. The Service Lite application talks to each of the devices and then erases the existing firmware and loads on the new firmware.
It's important that you are not doing anything else on your computer while doing this update. Your computer needs to be fully focused on the Service Lite software program, and you must not click out of the application otherwise there is a chance that some errors will occur. For best results please shut down all non-core applications and don't go and check emails etc while your updating.
Each hardware device will take up to two minutes to have its new version of firmware loaded, so depending on how many devices you're updating make sure that you have enough time to do this. The updating itself won't require you to do anything, except to set it up and let it begin - it will do the rest for you.
Problem Gate firmware update (keep beeping)
To do an update on your gates which have firmware 1.24 or any version, that keeps beeping, and is behaving, please follow these steps. As this firmware is potentially going to cause issues while updating to the latest version so will need some extra attention.
Any issue with these steps, please contact support@timingsolutions.com.au
Latest gate firmware 1.46
For the latest versions of RaceHQ and how to update versions and how to set up gates click here
How to perform the firmware update
1. Plug your timing hub into the laptop then turn on RaceHQ. Once it is open you should see a green wifi symbol up the top right corner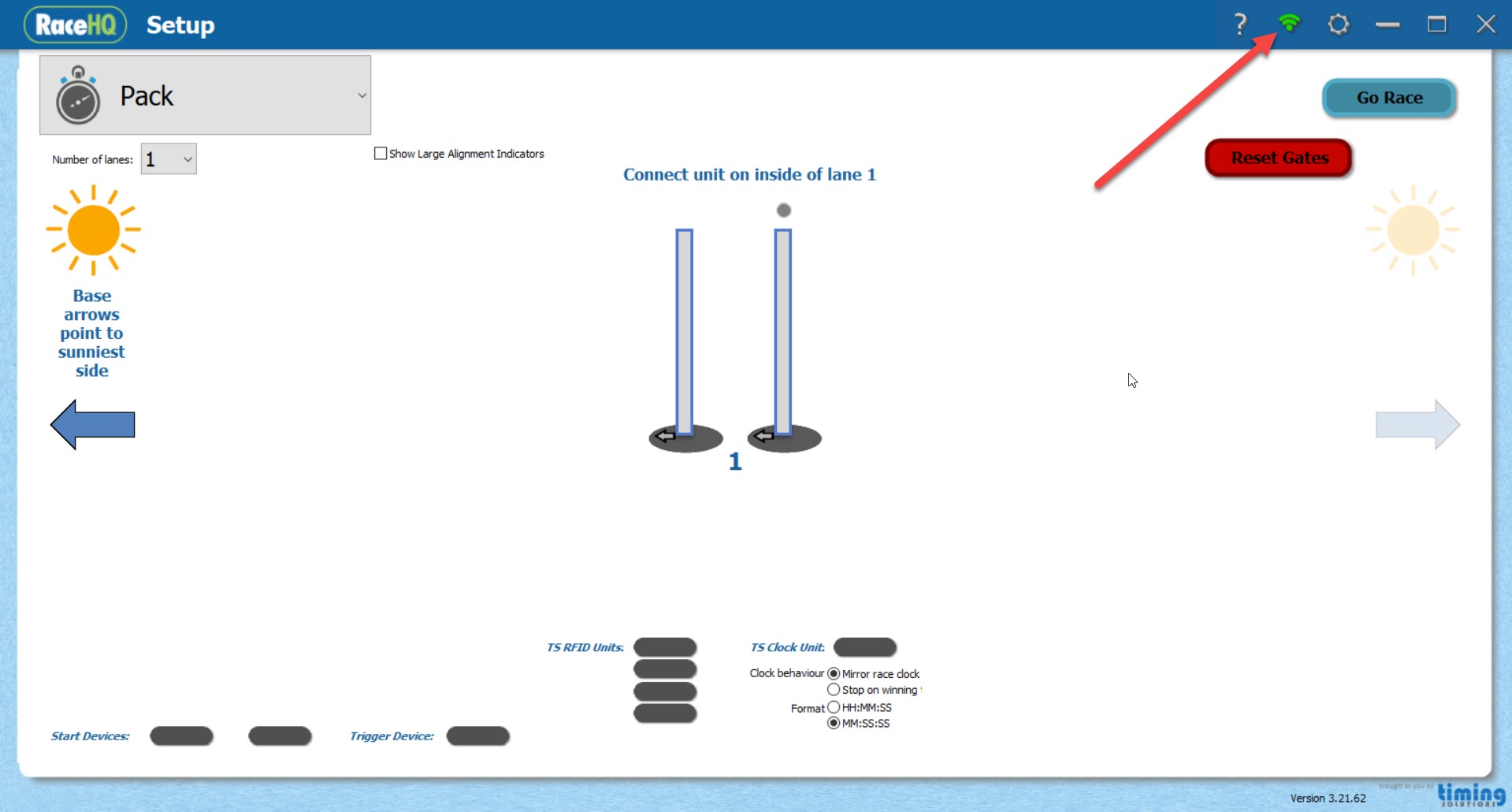 2. Now select the Service option from the list of available functions... it's second last at the bottom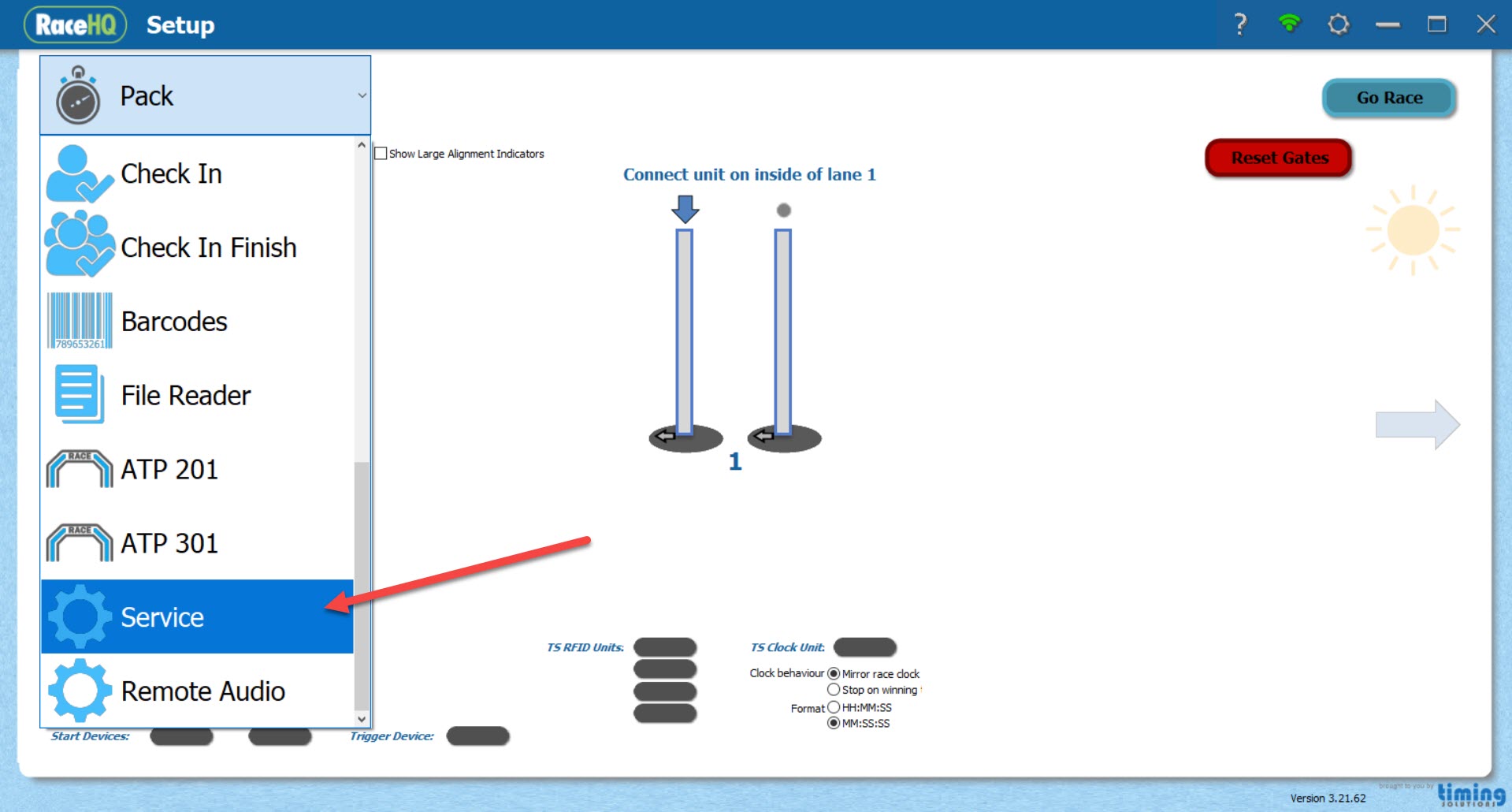 3. The service screen will appear and it should still have a green circle here saying your timing hub is connected.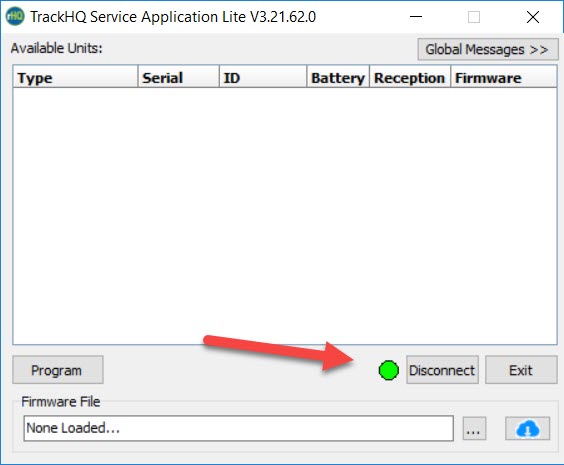 4. If not then click on the connect button.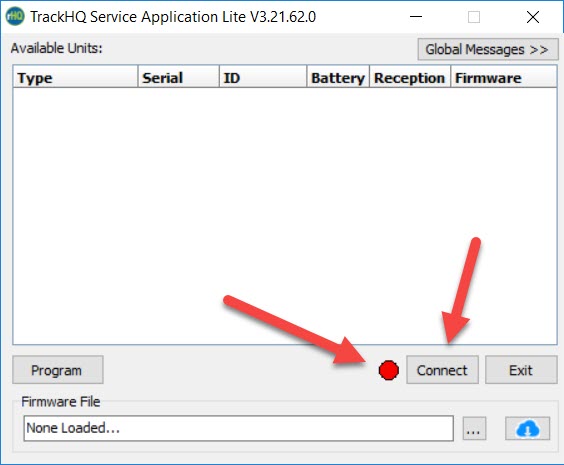 5. The circle indicated below should go green when you select a Comm port then press Connect
6. Setup your wireless devices near your computer; they don't need to be set up in a line, just make sure they are nearby so that you have easy access to them
7. Turn on one of your wireless devices. As each item is turned on you will see its description appear on the screen
Note: For this update to occur successfully, please ensure that you have at least 60% battery available in each hardware item. If this is not the case please change the batteries.
Continue to turn on the wireless devices that you wish to update. Only do a few at a time and confirm that you have a matching quantity of devices on the screen compared with the number of hardware items that you have turned on.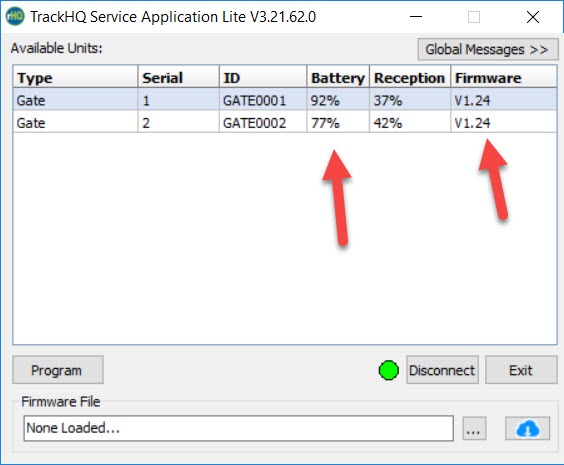 8. Click on the blue cloud symbol to load the firmware versions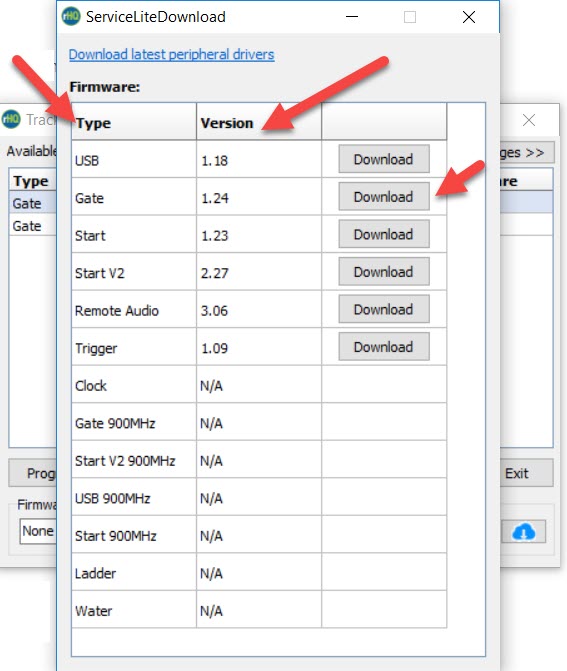 9. Find the type of device you are updating and download the firmware then press save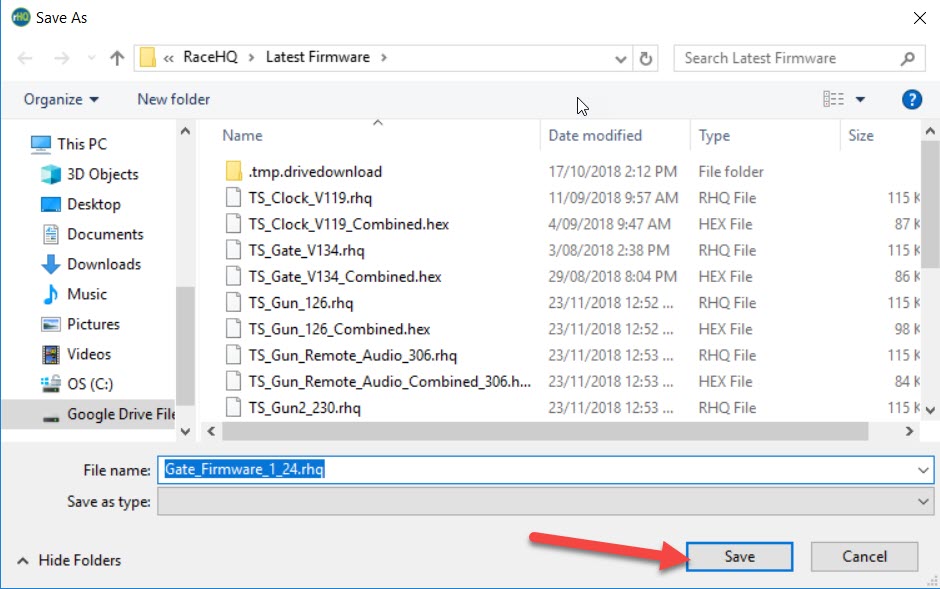 10. Locate the .rhq file that you downloaded and click on "Open"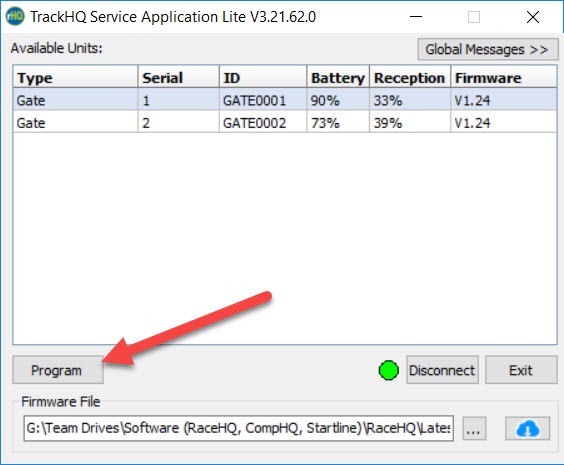 11. You will get start to see progress on the update like this...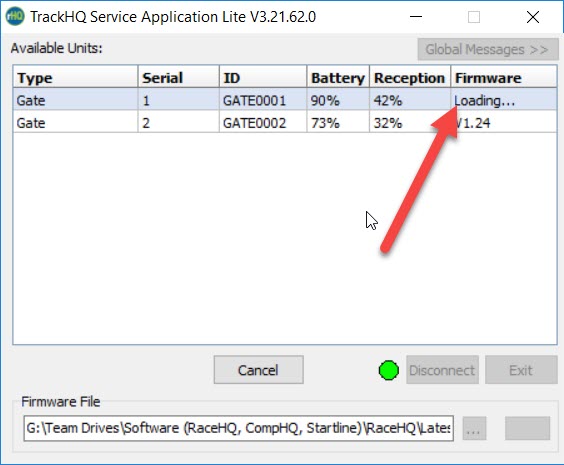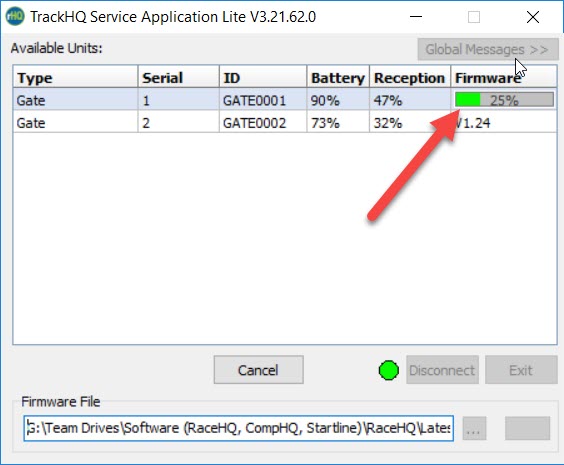 12. When you finished your firmware updates click on the red X in the top right corner of the application.
If you are having any troubles along the way please contact us with details at support@timingsolutions.com.au
Trouble Shooting
A. If an error message is shown and the device cannot be loaded;
Wait until you have finished all your other devices successfully
1. Turn RaceHQ off then back on again
2. Take a battery out of the troubled device (which turns off the device without resetting its memory) and put the battery back in
3. Turn the device back on. You may hear three short beeps - this means that it is in Update mode - this is fine.
4. Click on Global Message - global messages
5. Click on unit scan
6. If device/s are not visible on your service lite screen try the next step, otherwise reprogram the visible devices
7. Click on bootload scan
8. If device/s are not visible on your service lite screen try the next step, otherwise reprogram the visible devices
9. Click on exit bootload
10. If gates are not visible on your service lite screen try the next step, otherwise reprogram the visible gates
11. Do step 10 a couple more times and also disconnect a battery and reconnect it, then turn the gate back on and try step four again
If still no luck contact us for troubleshooting
B. Battery low error message
This indicates that the battery percentage on a device is below 60%. You need to put new batteries in before a firmware update can occur